THE WHO A FINALIZAR SERIE 'JOIN TOGETHER @ HOME' CON PREMIER DE PRESENTACIÓN EN SUIZA
Por Irving Vidro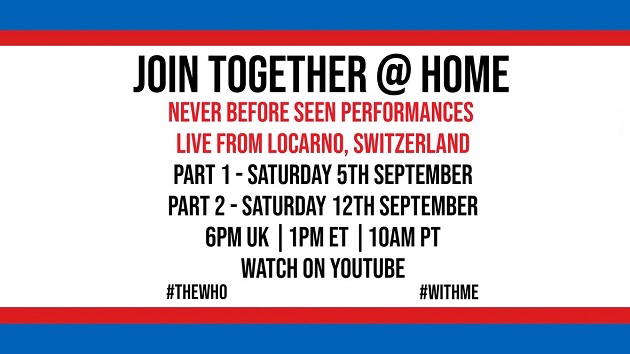 Como parte de la campaña #StayHome de YouTube, The Who cierra una celebración de seis semanas de sus increíbles presentaciones en vivo, con un estreno digital en dos partes.
La serie semanal, "Join Together @ Home", está en el canal oficial de YouTube de la banda. Cada largometraje (disponible digitalmente por primera vez) aparece como un estreno de YouTube, transmitiendo imágenes en vivo y pocas veces vistas, mini videos y secuencias especiales de pantalla. Culminando durante dos fines de semana con 5 y 4 canciones respectivamente de un espectáculo sensacional en Piazza Grande, Locarno, Suiza en julio de 2006, estas actuaciones incluyen la primera actuación en vivo de la banda de "Greyhound Girl".
Roger Daltrey dijo: "Es un programa muy especial, ¡ni siquiera recordaba que existía esta película! Nos estábamos juntando después de una pausa de 3 años. El espectáculo fue en un lugar extraordinario, en la plaza del pueblo, con gente bailando en sus balcones. Tengo muy buenos recuerdos de ello ".
"Join Together @ Home" está asociado con The Who y Eagle Rock Entertainment y se transmitirá exclusivamente en YouTube. "Join Together @ Home" se puede ver gratis, pero se alienta a los fanáticos a donar a los cobeneficiarios The Teenage Cancer Trust y Teen Cancer America.