THE STRUTS PRESENTA TEMA PRINCIPAL DE SU PRÓXIMO ÁLBUM 'STRANGE DAYS'
Por Irving Vidro
Solo han pasado varios días desde que The Struts lanzaron Another Hit Of Showmanship, con el guitarrista de Strokes Albert Hammond Jr, y ya están de regreso con otro sencillo.
Esta vez es el ex cantante de Take That,Robbie Williams, quien aparece como invitado en Strange Days, la canción principal del próximo tercer álbum de Struts. Strange Days se lanzará el 16 de octubre a través de Interscope / Polydor.
La colaboración se produjo inicialmente cuando The Struts lanzó su programa Quarantine Radio Instagram Live en los primeros días del cierre.
"Estaba haciendo Quarantine Radio y Robbie me llamó de la nada y me preguntó si podíamos hablar", explica el líder de Struts, Luke Spiller. "Terminamos con Face-Timing durante aproximadamente dos horas, la primera vez que hablamos, hablando de la vida, la música, los ovnis y todo lo demás que puedas imaginar.
"Le pregunté si le gustaría trabajar juntos en algún momento, y mientras estábamos haciendo el álbum, amablemente nos dejó venir y grabarlo cantando en su pórtico".
"Hicimos una voz para una canción maravillosa que ha sido regalada a mi manera", dice Williams. "Ha sido un absoluto placer y un privilegio escuchar cantar a este hombre. Es genial ser fan de alguien y luego formar parte de esta grabación. Es como tener un héroe aquí y lo digo en serio".
Williams se unirá a The Struts para realizar Strange Days en el estadio Old Trafford del Manchester United este domingo, como parte del evento Soccer Aid de Unicef. Los espectadores del Reino Unido podrán ver la actuación en ITV.
Strange Days se grabó en el estudio de Los Ángeles de John Levine, quien también trabajó con The Struts en el segundo álbum Young And Dangerous. Las sesiones se llevaron a cabo durante el encierro, y la banda se mudó a la casa de Levine durante la grabación.
"Fue muy divertido hacer un disco de esta manera en lugar de hacer todo entre giras, trabajando con varios productores en varios países", dice Spiller. "Todos estábamos ardiendo por capturar esa emoción tanto como fuera posible, ya veces parecía que las canciones literalmente simplemente caían del cielo.
"Sin duda fueron diez días mágicos para nosotros, y espero que cuando la gente escuche el álbum, también les dé una muestra de esa magia".
Además de Hammond Jr. y Williams, el álbum incluye apariciones especiales de Joe Elliott y Phil Collen de Def Leppard en I Hate How Much I Want You, Tom Morello de Rage Against Machine agrega la guitarra a Wild Child y la banda cubre Do You Love Me? de Kiss.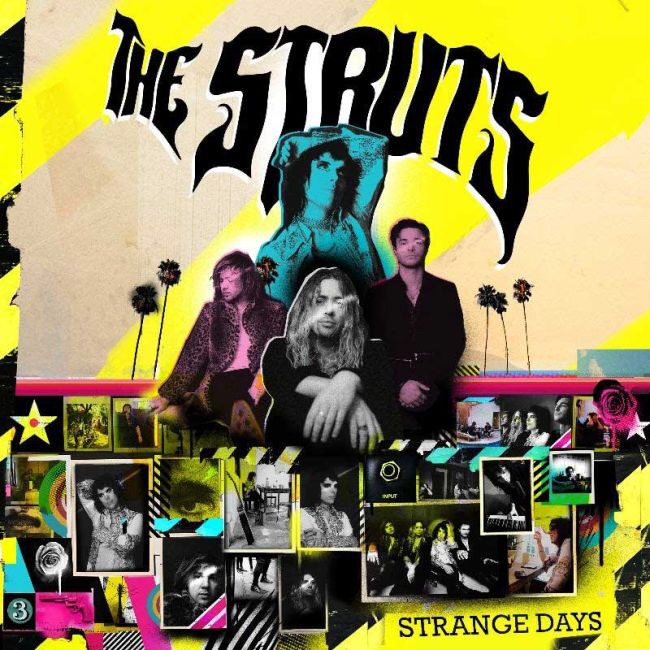 The Struts: Strange Days tracklist
Strange Days
All Dressed Up (With Nowhere To Go)
Do You Love Me
I Hate How Much I Want You
Wild Child
Cool
Burn It Down
Another Hit Of Showmanship
Can't Sleep
Am I Talking To The Champagne (Or Talking To You)