THE EAGLES : HOTEL CALIFORNIA 2020 TOUR
Por Irving Vidro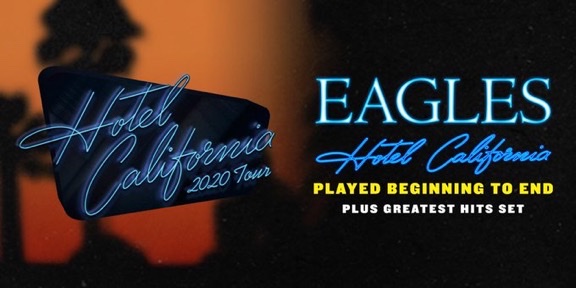 Luego de unas fechas "de prueba",con entradas agotadas", en Las Vegas,la banda The Eagles ha decidido llevar su álbum Hotel California de gira en el 2020.
El icónico grupo de rock, presentado como Don Henley, Joe Walsh y Timothy B. Schmit, con Deacon Frey y Vince Gill, realizó su clásico álbum de 1976, Hotel California, en su totalidad por primera vez el 27 de septiembre en el MGM Grand Garden Arena con una orquesta de 46 piezas y un coro de 22 miembros, seguido de los mejores éxitos establecidos después de un breve intermedio. Los miembros del Salón de la Fama del Rock & Roll repitieron la noche del 28 de septiembre al 5 de octubre.
Comenzando en febrero la banda llevará su espectáculo a diferentes ciudades de Estados Unidos como Atlanta,San Francisco,Nueva York,Dallas,Houston y Los Angeles.