SAMMY HAGAR "VOY A HACER UNA GIRA POR 40 CIUDADES"
Por Irving Vidro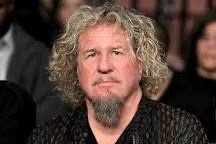 Durante su aparición el 19 de noviembre en el Grammy Museum de Los Ángeles, el veterano vocalista de rock Sammy Hagar reveló que The Circle: su supergrupo de rock con el baterista Jason Bonham, el guitarrista Vic Johnson y su compañero de banda en Van Halen y Chickenfoot, Michael Anthony, se embarcará en una extensa gira por América del Norte en 2020. La caminata marcará la más larga en años para el cantante de 72 años conocido como "The Red Rocker".
"Voy a hacer una gira por 40 ciudades", dijo Hagar. "No he hecho esto en mucho tiempo. Este año, hicimos un disco ['Space Between'] y me dijeron: 'Tienes que salir y apoyarlo'. No me gusta irme de gira, pero me encantan los shows. De la forma en que [normalmente] lo hacemos con The Circle, tocamos un par de shows al mes, pero voy a hacer 40 ciudades, una verdadera gira – el año que viene. Me estoy duplicando por lo que hice este año. Decidí que tenía que hacer esto mientras aún pudiera. Habrá un día en que despertaré y diré: 'No puedo hacer esto no más, 'no porque no quiera en mi corazón, sino porque mis rodillas, mi espalda, mi voz, algo va a decir,' No '. Es inevitable para todos, así que voy a seguir adelante y profundizar ".
El primer álbum de The Circle de material completamente original, "Space Between", fue lanzado el 10 de mayo a través de BMG.