PAT BENATAR LIDERA VOTOS DE FANS AL SALÓN DE LA FAMA DEL ROCK & ROLL
Por Irving Vidro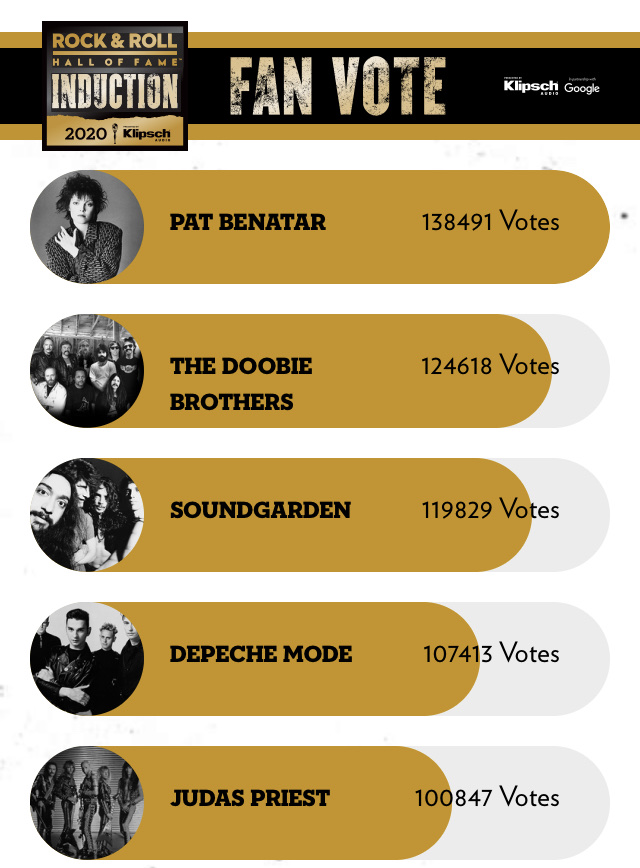 Las votaciones para el Salón de la Fama del Rock and Roll han comenzado.Al momento las votaciones las lidera Pat Benatar,seguida de The Doobie Brothers,Soundgarden,Depeche Mode y Judas Priest para completar las primeras 5 posiciones.
Los cinco mejores artistas, seleccionados por el público, comprenderán una "boleta de los fanáticos" que se contará junto con las otras boletas para elegir a los inducidos de 2020.
Puede visitar www.rockhall.com/vote para emitir una boleta todos los días hasta el 10 de enero de 2020. Los fanáticos deberán iniciar sesión para votar. La votación está limitada a una boleta por día.
Nuevo este año: puede buscar Rock Hall Fan Vote o la palabra Vote con cualquier nombre de Nominado en Google para emitir su voto. El salón ha aprobado más de 1 millón de votos hasta el momento y pueden usar su apoyo para determinar qué nominados deben terminar en la "Boleta de votación de los fanáticos".