NUEVO LIBRO EXPLORA INFLUENCIAS DE KISS,CHEAP TRICK,AEROSMITH Y STARZ EN LOS 80s Y 90s
Por Irving Vidro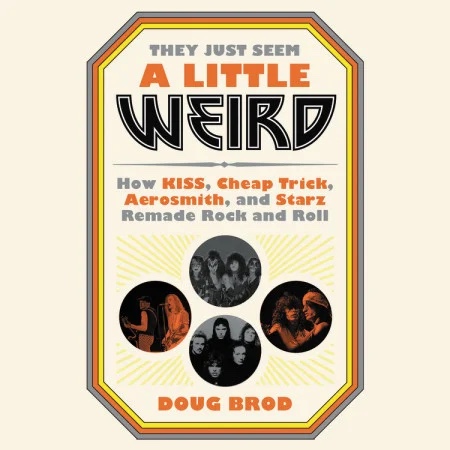 El 1 de diciembre a través de Hachette Books, "They Just Seem A Little Weird" de Doug Brod ofrece una mirada original y reveladora a un momento crucial en la historia del hard rock, cuando la música volvió a ser divertida y un concierto se convirtió en un show. Es la historia de cuatro bandas que comenzaron en los años 70 y se inspiraron en las mismas fuentes fundamentales, pero idearon sonidos muy diferentes. Es la historia de amigos y enemigos que se levantaron, cayeron y volvieron a elevarse, a menudo compartiendo escenarios, productores, ingenieros, gerentes y fanáticos, y que siguen colaborando más de 40 años después.
En la tradición de libros como el éxito de ventas "Fire And Rain" de David Browne, "They Just Seem A Little Weird" entrelaza a la perfección las narrativas del megaventas KISS, CHEAP TRICK, AEROSMITH con … STARZ, una banda criminalmente olvidada cuyo destino puede haber sido sellado por un acto de violencia impactante. Es la historia de cómo los cuatro, tres de ellos ahora consagrados en el Salón de la Fama del Rock And Roll, pasaron a influir en múltiples generaciones de músicos, sentando las bases para dos subgéneros de rock diametralmente opuestos: el hair metal de BON JOVI, POISON, SKID ROW y MÖTLEY CRÜE en los 80, y el grunge de NIRVANA, PEARL JAM, ALICE IN CHAINS y MELVINS en los 90.
Profundamente investigado y con más de 130 entrevistas nuevas, este libro es nada menos que una historia secreta del rock clásico.
Brod es el ex editor en jefe de la revista SPIN y fue editor durante mucho tiempo en Entertainment Weekly. Trabajó para Atlantic Records, enseñó en la Universidad de Nueva York y fue productor de segmento de la serie de televisión de comedia y música "Oddville", MTV. Brod también ha escrito para The New York Times, Billboard, Classic Rock, The Hollywood Reporter y The Trouser Press Record Guide. Nacido en Nueva York, vive con su familia en Toronto.