NETFLIX A REALIZAR PELÍCULA ANIMADA BASADA EN LIBRO DE PAUL McCARTNEY
Por Irving Vidro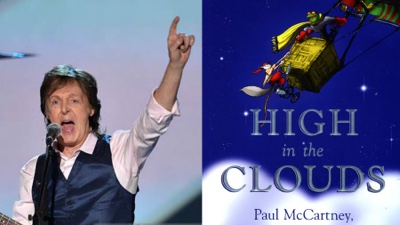 La novela de aventuras para niños de 2005 de Paul McCartney, High in the Clouds, será adaptada por Netflix y Gaumont como una película animada. La historia sigue a una imaginativa ardilla adolescente llamada Wirral que se encuentra con un grupo de rebeldes adolescentes que viven en el cielo y están dirigidos por el tiránico Gretsch el búho, un cantante terrorista que roba la voz de cualquiera que la eclipse.
La película será dirigida por el nominado al Oscar Timothy Reckart (Head Over Heels), con un guión de Jon Croker (Paddington) y canciones y música originales de McCartney.
"Estamos encantados de asociarnos con Netflix. Complementan lo que ya es un equipo increíble con Gaumont y podemos pensar en nadie mejor con quien trabajar para llevar nuestra película a una audiencia global ", dijo McCartney en un comunicado sobre la adaptación del libro que escribió con Philip Ardagh, con ilustraciones. por Geoff Dunbar. "Siempre me han encantado las películas animadas y este es un proyecto apasionante de gran importancia para mí. No puedo esperar a que el mundo lo vea ".
El productor francés Gaumont, la compañía cinematográfica más antigua del mundo, está detrás de series como Narcos, F is For Family y Tin Star. "El desarrollo de HIGH IN THE CLOUDS ha sido un viaje fantástico trabajando junto con Tim y Jon y, por supuesto, mi increíble equipo de Gaumont Animation and Family, Terry Kalagian y Alex Soto", dijo Nicolas Atlan, presidente de Gaumont Animation and Family.
"Nos sentimos afortunados ya que este ha sido un proceso creativo extremadamente colaborativo con el incomparable Paul McCartney y su equipo, incluido Lee Eastman, quien ha ofrecido una orientación invaluable durante la etapa de desarrollo. En Gaumont estamos encantados de anunciar este proyecto y estamos emocionados de estar trabajando con Melissa Cobb, Gregg Taylor y el talentoso equipo de Netflix para poder compartir esta película de animación musical verdaderamente especial con audiencias de todo el mundo ".