MIEMBROS SOBREVIVIENTES DE SOUNDGARDEN DESEAN VOLVER A TOCAR JUNTOS
Por Irving Vidro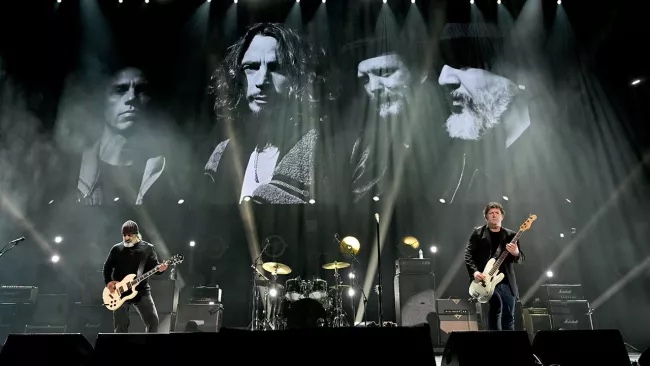 El baterista de Soundgarden Matt Cameron y el guitarrista Kim Thayil han hablado sobre los miembros sobrevivientes de la banda grabando juntos nuevamente.
Ambos hablaron tras el lanzamiento de A Rooster Says de Brandi Carlile, un sencillo de vinilo de 12 pulgadas producido para Drop Day 2 en la serie de Record Store Days de este año.
El sencillo incluye versiones de Black Hole Sun y Searching With My Good Eye Closed de Soundgarden, y se grabó en el London Bridge Studio de Seattle, donde se grabó Louder Than Love, con los miembros sobrevivientes de la banda junto con los colaboradores habituales de Carlile, Phil y Tim Hanseroth.
"Nos sentimos honrados de que nos pidiera participar en su proyecto Record Store Day", le dice Cameron a Rolling Stone. "Nos divertimos mucho. Creo que la mayoría de la gente asume que los tres hemos terminado desde que Chris falleció, pero ese no es el caso. Es bueno saber que la gente todavía quiere escucharnos tocar juntos ".
"Fue tan natural y divertido tocar con Brandi y los gemelos, y tocar con Ben y Matt es algo natural para mí", dijo Thayil. "Cualquier oportunidad de volver a tocar con todos ellos, ya sea en vivo o en el estudio, la abrazaría sin dudarlo".
Carlile actuó en el espectáculo tributo a Chris Cornell en The Forum en Los Ángeles el 16 de enero de 2019, donde contribuyó con la voz en Like A Stone de Audioslave, Temple Of The Dog's Hunger Strike y Black Hole Sun.
La cantante también es la embajadora del American Record Store Day de este año y, como tal, las canciones de A Rooster Says aún no han recibido un lanzamiento digital.