LYNYRD SKYNYRD A LANZAR ÁLBUM EN VIVO GRABADO EN SU GIRA DE DESPEDIDA
Por Irving Vidro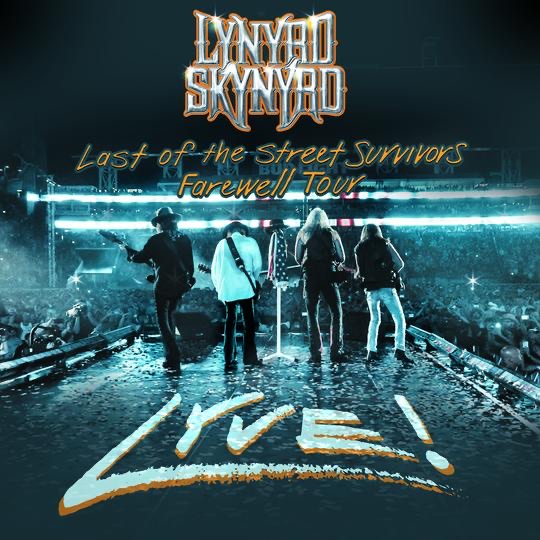 Lynyrd Skynyrd lanzará un nuevo álbum en vivo que documenta la gira de despedida del grupo de rock sureño. Lynyrd Skynyrd: Last of The Street Survivors Farewell Tour Lyve! se grabó en la presentación de la ciudad natal de la banda en Jacksonville, Florida, el 2 de septiembre de 2018.
Antes del lanzamiento del álbum de 17 canciones el 1 de noviembre, el grupo presenta una vista previa del set con un video de "What's Your Name " filmado en el escenario en TIAA Bank Field.
Lynyrd Skynyrd proyectará su concierto de Jacksonville 2018 en cines en los Estados Unidos el 7 de noviembre. Presentado por Fathom Events, la película comenzará a las 7 p.m. hora local.
Lynyrd Skynyrd: Last of the Street Survivors Farewell Tour Lyve!:
Disc 1
1. "Workin' for MCA"
2. "Skynyrd Nation"
3. "What's Your Name"
4. "That Smell"
5. "Travelin' Man"
6. "I Know a Little"
7. "The Needle and the Spoon"
8. "Saturday Night Special"
9. "Red White and Blue"
10. "The Ballad of Curtis Loew"
11. "Tuesday's Gone"
Disc 2
12. "Don't Ask Me No Questions"
13. "Simple Man"
14. "Gimme Three Steps"
15. "Call Me the Breeze"
16. "Sweet Home Alabama"
17. "Freebird"