KIRK HAMMETT Y ROBERT TRUJILLO INVITADOS EN EXHIBICIÓN 'PLAY IT LOUD:INSTRUMENTS OF ROCK & ROLL'
Por Irving Vidro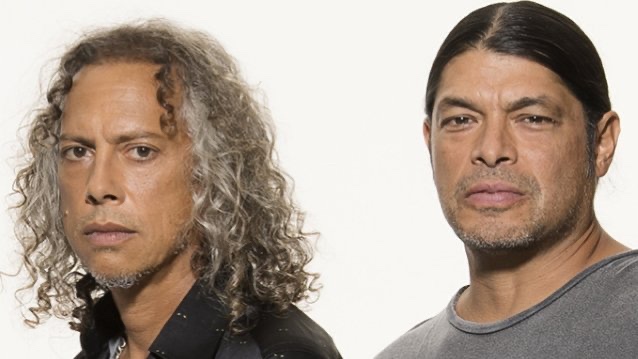 Kirk Hammett y Robert Trujillo de Metallica se encuentran entre los invitados especiales que participarán en el lanzamiento de "Play It Loud: Instruments Of Rock & Roll" en el Salón de la Fama del Rock & Roll en Cleveland el jueves 21 de noviembre. También programado para aparecer son Don Felder, anteriormente de The Eagles, y Nancy Wilson de Heart. Todos los invitados especiales tienen instrumentos incluidos en la exhibición icónica. Los boletos cuestan $ 30 para miembros y $ 50 para no miembros e incluyen todos los privilegios de gira de "Play It Loud" y exhibiciones adicionales de Rock Hall, música en vivo y entretenimiento, un boleto de bebida de cortesía y un bar de postres.
"Play It Loud: Instruments Of Rock & Roll" celebra los icónicos instrumentos musicales que le dieron al rock and roll su sonido característico. Coorganizado con The Met, la exposición ofrece una mirada rara y profunda a los instrumentos que inspiraron a los músicos e hicieron posible las canciones que conocemos y amamos. "Play It Loud: Instruments Of Rock & Roll" es la exposición individual más grande que el Rock Hall ha exhibido y ocupa cuatro pisos. Los fanáticos pueden esperar nuevas adquisiciones y adaptaciones espectaculares que hacen que el espectáculo sea único para su lugar. Los instrumentos datan desde 1939 hasta hoy y muchos nunca se han exhibido fuera de su configuración original de concierto.
Desde la guitarra de Bruce Springsteen hasta un traje extravagante usado por Prince y cuerdas psicodélicas usadas por Jack Bruce de Cream, los fanáticos pueden examinar de cerca los artículos personales.
La exposición se exhibió anteriormente en el Museo Metropolitano de Arte de Nueva York.