FLEETWOOD MAC A LANZAR BOX SET ENFATIZANDO EN SUS PRIMEROS AÑOS DE CARRERA
Por Irving Vidro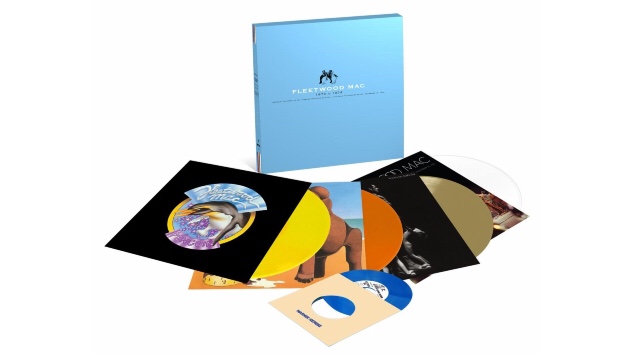 El 4 de septiembre, Fleetwood Mac lanzará dos colecciones de discos múltiples que profundizarán en los primeros años de la banda, antes de que Stevie Nicks y Lindsey Buckingham se unieran al grupo.
El primero es Fleetwood Mac 1969-1974, un conjunto de ocho CDs con siete de los álbumes de estudio de la banda, más un álbum en vivo inédito grabado en diciembre de 1974. Los esfuerzos de estudio presentados en la colección son Then Play On de 1969, Kiln House de 1970 , Future Games de 1971, Bare Trees de 1972, Penguin y Mystery to Me de 1973 y Heroes Are Hard to Find de 1974. La mayoría de los discos también incluyen una o más pistas adicionales.
Fleetwood Mac sufrió varios cambios de alineación a fines de la década de 1960 y principios de la de 1970, con el baterista Mick Fleetwood y el bajista John McVie como los únicos miembros constantes. Entre los otros músicos que tocaron con el grupo durante esta época se encontraban el líder fundador Peter Green, la cantante / tecladista Christine McVie y el cantante / guitarrista Jeremy Spencer, Danny Kirwan y Bob Welch.
Entre los éxitos del Reino Unido y las canciones populares que aparecen en el set se encuentran "Oh Well", "The Green Manalishi (With the Two Prong Crown)", "Sentimental Lady" y "Hypnotized".
El álbum de concierto inédito 'Live from The Record Plant 12-15-74' cuenta con una actuación que la banda dio en Sausalito, California, que originalmente se emitió en una estación de radio local.
El segundo lanzamiento es una caja de vinilo de cuatro LP titulada Fleetwood Mac 1973-1974 que presenta Penguin, Mystery to Me, Heroes Are Hard to Find y Live from The Record Plant, así como un single de siete pulgadas que ofrece una edición mono promocional. de la canción Mystery to Me "For Your Love" y el outtake "Good Things (Come to Those Who Wait)".
También estará disponible una versión de vinilo coloreado de edición limitada del Fleetwood Mac 1973-1974.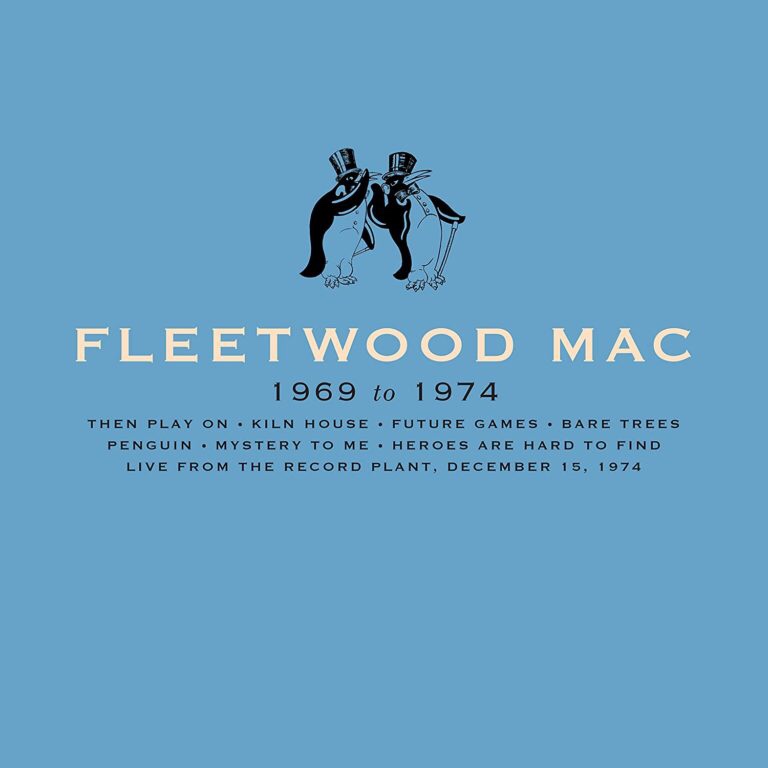 'Fleetwood Mac 1969-1974' CD tracklist:
'Then Play On' (1969)
'Coming Your Way'
'Closing My Eyes'
'Show-Biz Blues'
'My Dream'
'Underway'
'Oh Well'
'Although The Sun Is Shining'
'Rattlesnake Shake'
'Searching For Madge'
'Fighting For Madge'
'When You Say'
'Like Crying'
'Before The Beginning'
Bonus tracks
'Oh Well Pts I & II'
'The Green Manalishi (With The Two Prong Crown)'
'World In Harmony'
'Kiln House' (1970)
'This Is The Rock'
'Station Man'
'Blood On The Floor'
'Hi Ho Silver'
'Jewel Eyed Judy'
'Buddy's Song'
'Earl Gray'
'One Together'
'Tell Me All The Things You Do'
'Mission Bell'
Bonus tracks
'Dragonfly'
'Purple Dancer'
'Jewel Eyed Judy' (Single Version)
'Station Man' (Single Version)
'Future Games' (1971)
'Woman Of 1,000 Years'
'Morning Rain'
'What A Shame'
'Future Games'
'Sands Of Time'
'Sometimes'
'Lay It All Down'
'Show Me A Smile'
Bonus tracks
'Sands Of Time' (Single Version)
'Sometimes' (Alt. Version)
'Lay It All Down' (Alt. Version)
'Stone'
'Show Me A Smile' (Alt. Version)
'What A Shame' (Unedited)
'Bare Trees' (1972)
'Child Of Mine'
'The Ghost'
'Homeward Bound'
'Sunny Side Of Heaven'
'Bare Trees'
'Sentimental Lady'
'Danny's Chant'
'Spare Me A Little Of Your Love'
'Dust'
'Thoughts On A Grey Day'
Bonus tracks
'Trinity'
'Sentimental Lady' (Single Version)
'Penguin' (1973)
'Remember Me'
'Bright Fire'
'Dissatisfied'
'(I'm A) Road Runner'
'The Derelict'
'Revelation'
'Did You Ever Love Me'
'Night Watch'
'Caught In The Rain'
'Mystery To Me' (1973)
'Emerald Eyes'
'Believe Me'
'Just Crazy Love'
'Hypnotized'
'Forever'
'Keep On Going'
'The City'
'Miles Away'
'Somebody'
'The Way I Feel'
'For Your Love'
'Why'
Bonus tracks
'For Your Love' (Mono Promo Edit)
'Good Things (Come To Those Who Wait)'
'Heroes Are Hard to Find' (1974)
'Heroes Are Hard to Find'
'Coming Home'
'Angel'
'Bermuda Triangle'
'Come A Little Bit Closer'
'She's Changing Me'
'Bad Loser'
'Silver Heels'
'Prove Your Love'
'Born Enchanter'
'Safe Harbour'
Bonus track
'Heroes Are Hard to Find' (Single Version)
'Live From The Record Plant 12-15-74'
'Green Manalishi (With The Two Prong Crown)'
'Angel'
'Spare Me A Little Of Your Love'
'Sentimental Lady'
'Future Games'
'Bermuda Triangle'
'Why'
'Believe Me'
'Black Magic Woman/Oh Well'
'Rattlesnake Shake'
'Hypnotized'