AMON AMARTH A PRESENTAR 'MOVIE NIGHT WITH AMON AMARTH' VÍA KNOTFEST.COM
Por Irving Vidro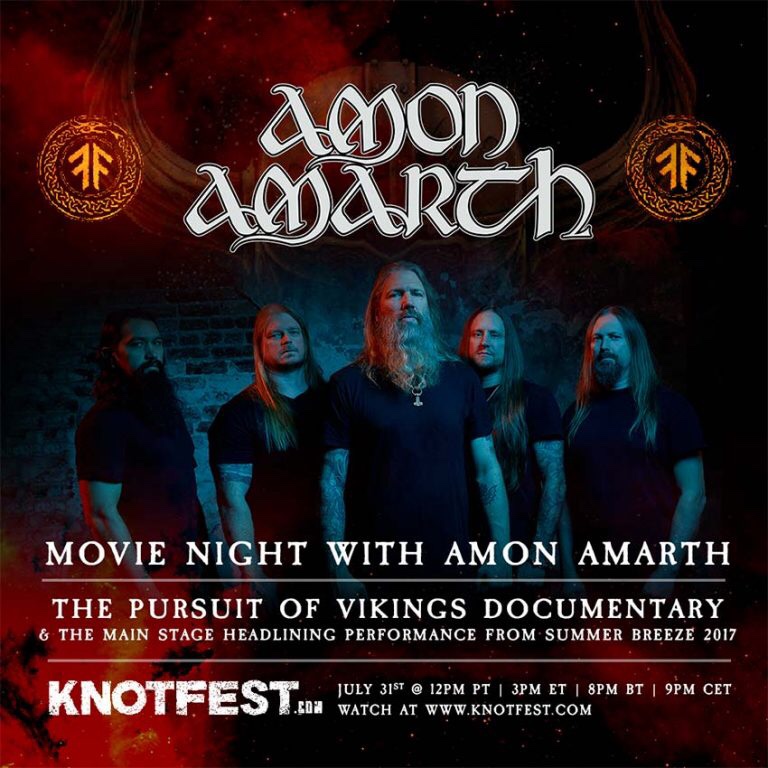 Las leyendas suecas del death metal melódico Amon Amarth han anunciado planes para organizar su "Movie Night With Amon Amarth" a través de Knotfest.com el viernes 31 de julio a partir de las 12 p.m. PDT / 3 p.m. EDT.
"El evento de transmisión contará con la transmisión del documental de la banda – The Pursuit of Vikings: 25 Years In The Eye Of The Storm, seguido de la transmisión de su presentación completa en el escenario principal del Festival Summer Breeze, 2017", dice el anuncio. "Para que el evento sea más metálico, la banda se unirá a los fanáticos en la sección de comentarios para chatear en vivo durante la transmisión".
'The Pursuit of Vikings: 25 Years in the Eye of the Storm' presenta conciertos en vivo, escenas detrás de escena y entrevistas con Amon Amarth. "Destaca la historia del quinteto y los fanáticos que los siguieron a lo largo de los años", continúa el anuncio. "Amon Amarth realizó dos espectáculos diferentes en el Summer Breeze Festival en Alemania en 2017. La banda hizo un set anterior enfocándose en material más antiguo y luego, un concierto principal en el escenario principal con producción completa, incluyendo una serpiente marina gigante y muchos fuego."
El guitarrista Olavi Mikkonen explica más adelante: "Para la primera noche, queríamos escribir una lista establecida que los fanáticos disfrutarían al sumergirse por completo en nuestro catálogo posterior pero también mantenerlo interesante. Poner los dos shows juntos también nos hizo darnos cuenta de que tenemos muchas canciones para elegir ".
Echa un vistazo a un trailer de "The Pursuit of Vikings" a continuación.