EDDIE VEDDER Y RED HOT CHILI PEPPERS INTERPRETAN "PURPLE RAIN" Y "ALL ALONG THE WATCHTOWER"
Por Irving Vidro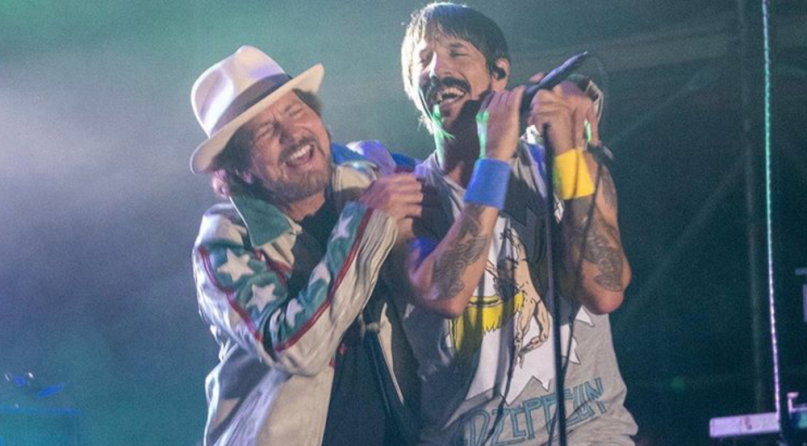 Eddie Vedder y Red Hot Chili Peppers se unieron para interpretar "Purple Rain" de Prince y la interpretación de Jimi Hendrix de "All Along the Watchtower" durante la parte encore del concierto anual de recaudación de fondos del Conservatorio de Música Silverlake el sábado en Los Ángeles.
Tanto el cantante de Pearl Jam como los Chili Peppers, el bajista Flea cofundador de la escuela de música sin fines de lucro hace casi dos décadas, tocaron mini-sets en el estacionamiento del Conservatorio de Música de Silverlake para una pequeña audiencia como parte del espectáculo benéfico, que fue organizado por Marc Maron.
La presentación de ocho canciones de los Chili Peppers contó con éxitos como "Soul to Squeeze", "Suck My Kiss" y "By the Way", mientras que Vedder interpretó un conjunto en solitario de los favoritos de Pearl Jam junto con su versión estándar de Tom Petty " Wildflowers. "Durante ambos sets, los estudiantes del Conservatorio Silverlake ocasionalmente aparecían en el escenario para tocar con los rockeros. Para cerrar la noche, Vedder se unió a los Chili Peppers para los dos covers.
https://youtu.be/nuEvT_DT35Y