CREEDENCE CLEARWATER REVIVAL PRESENTA VÍDEO PARA 'LONG AS I CAN SEE THE LIGHT'
Por Irving Vidro
Se ha lanzado un nuevo video para el clásico Long As I Can See The Light de Creedence Clearwater Revival. El video se lanzó a tiempo para el Día del Padre y presenta videoclips y fotos de recuerdos apropiados enviados por los fanáticos de CCR.
Long As I Can See The Light se encontró originalmente en el álbum de la banda Cosmo's Factory, que fue lanzado en julio de 1970. Para conmemorar el aniversario, Craft Recordings reeditará el álbum como una edición de vinilo de 180 g masterizada a media velocidad el 14 de agosto. El álbum fue masterizado en Abbey Road Studio.
Una declaración que acompaña al lanzamiento dice: "Usando transferencias de alta resolución de las cintas analógicas originales, el proceso de masterización implica reproducir el audio a la mitad de su velocidad grabada, mientras que el torno de corte se gira a la mitad de la velocidad de reproducción deseada.
"La técnica permite más tiempo para cortar una ranura de micro precisión, lo que resulta en una mayor precisión con frecuencias extremas y contrastes dinámicos. El resultado en los giradiscos es un nivel excepcional de claridad y golpe sonoro".
Esta presión del álbum viene en una chaqueta de punta, y solo ha estado disponible previamente como parte del box set de la Colección de álbumes de estudio de la banda, que se lanzó en diciembre de 2018.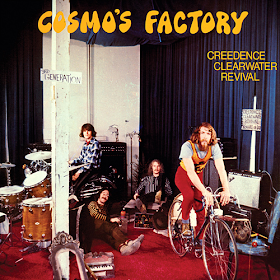 Cosmo's Factory
Side A:

Ramble Tamble
Before You Accuse Me
Travelin' Band
Ooby Dooby
Lookin' Out My Back Door
Run Through The Jungle
Side B:
Up Around The Bend
My Baby Left Me
Who'll Stop The Rain
I Heard It Through The Grapevine
Long As I Can See The Light