BRIAN SETZER FORZADO A CANCELAR GIRA 'CHRISTMAS ROCKS!'
Por Irving Vidro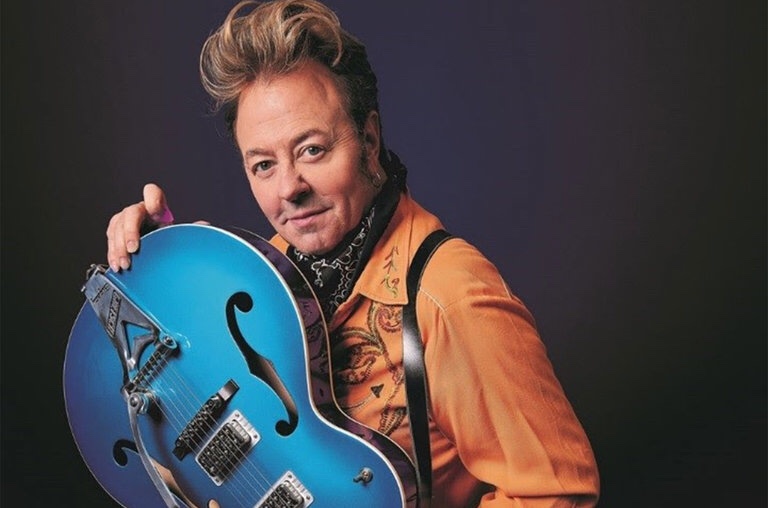 Brian Setzer y su Brian Setzer Orchestra canceló su gira Christmas Rocks!.Según un comunicado de prensa, a Setzer le diagnosticaron un caso grave de tinnitus, una condición que hace que los pacientes escuchen un ruido constante o zumbidos en los oídos, a menudo relacionado con la pérdida de audición relacionada con la edad o una lesión en las células ciliadas del oído interno. .
"Es desilusionante decepcionar a mis fanáticos que han compartido mis temporadas de Navidad conmigo durante más de quince años", dijo Setzer en un comunicado. "Realmente lamento las molestias que esto ha causado a todas las personas increíbles que hacen posible mi gira y a mis admiradores increíblemente leales y devotos. Odio decepcionarte y espero que lo entiendas".
La gira anual de más de 20 ciudades del guitarrista de Stray Cats con la orquesta de 19 músicos estaba programada para comenzar el viernes en Minneapolis y se extenderiá hasta el 21 de diciembre en Los Ángeles; Los boletos pueden ser reembolsados ​​en el punto de compra. En octubre, Setzer lanzó Rockin 'Rudolph, un álbum de 12 canciones con canciones navideñas que incluyen "Most Wonderful Time Of The Year", "Have Yourself a Merry Little Christmas", "Carol of the Bells" y "O Little Town of Bethlehem" así como también dos versiones del "Yabba-Dabba Yuletide" original de Setzer.
Las fechas afectadas están a continuación.
Nov. 15 — Minneapolis, MN @ State Theatre
Nov. 16 — Chicago, IL @ The Chicago Theatre
Nov. 17 — Detroit, MI @ Fox Theatre
Nov. 19 — Red Bank, NJ @ Count Basie Center For The Arts
Nov. 20 — Englewood, NJ @ Bergen Performing Arts Center
Nov. 21 — Springfield, MA @ Symphony Hall
Nov. 23 — Lynchburg, VA @ Academy of Fine Arts — Historic Theatre
Nov. 24 — Wesbury, NY @ Theatre at Westbury
Nov. 26 — Washington, DC @ The Anthem
Nov. 27 — Durham, NC @ Durham Performing Arts Center
Nov. 29 — Orlando, FL @ Hard Rock Live
Nov. 30 — Clearwater, FL @ Ruth Echerd Hall
Dic. 2 — Nashville, TN @ The Ryman
Dic. 3 — Atlanta, GA @ Cobb Energy Performing Arts Centre
Dic. 4 — Augusta, GA @ Miller Theatre
Dic. 6 — Biloxi, MS @ Beau Rivage Resort & Casino
Dic. 9 — Denver, CO @ Paramount Theatre
Dic. 10 — Salt Lake City, UT @ Eccles Theatre
Dic. 12 — Ridgefield, WA @ Ilani Casino
Dic. 13 — Seattle, WA @ Moore Theatre
Dic. 14 — Seattle, WA @ Moore Theatre
Dic. 16 — Oakland, CA @ Fox Theater
Dic. 17 — Stockton, CA @ Bob Hope Theatre
Dic. 19 — Phoenix, AZ @ Celebrity Theatre
Dic. 20 — Palm Desert, CA @ McCallum Theatre
Dic. 21 — Los Angeles, CA @ Microsoft Theater