A SUBASTA RARO DEMO EN VINILO DE DAVID BOWIE
Por Irving Vidro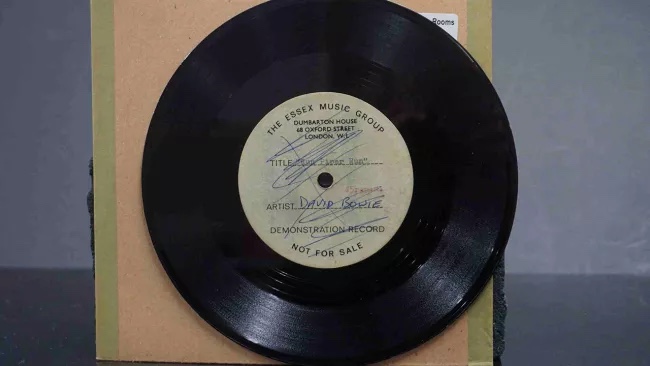 Una rara porción de objetos de interés de David Bowie pasará a subasta a finales de esta semana en forma de una demostración en vinilo de 7 pulgadas de la pista inédita Run Piper Run.
La canción fue grabada en 1967 y está respaldada por Lay Your Head Upon My Shoulder del cofundador de The Move, Ace Kefford, una pista que resurgiría en el álbum de 2003 Ace (The Lost 1968 Tapes).
El disco saldrá a subasta el viernes (15 de enero) en Wessex Auction Rooms en Chippenham, Inglaterra, y la subasta en línea comenzará a las 10.30 am BST.
Se estima que el disco se vende entre £ 6000 y £ 8000 y un fragmento de Run Piper Run se puede escuchar a continuación. En julio de 2020, una demostración inédita de Bowie de I Do Believe I Love You se vendió en Wessex Auction Rooms por £ 18,000.
El disco de Bowie / Kefford será solo una de las ofertas de vinilo del día, con un enfoque particularmente en rarezas punk y demos.
Estos incluyen un conjunto de siete ediciones de singles originales de Sex Pistols, la caja de CD de Ramones Were Outta Here, firmada por Johnny, CJ, Dee Dee, Joey, Marky y Tommy Ramone, y una copia de Tommy Gun de The Clash. que ha sido autografiada por Joe Strummer, Paul Simonon, Mick Jones y Topper Headon y mucho más.
El subastador y especialista en música de Wessex Auction Rooms, Martin Hughes, dice a Classic Rock: "A pesar de que la mayoría de la gente conoce el punk y su impacto cultural, hay que recordar que en ese momento la mayoría de estos discos se imprimieron en cantidades muy pequeñas.
"Muchas bandas hicieron a mano las carátulas de sus discos e hicieron que sus singles se imprimieran en pequeños sellos de prensa privados. Si a eso le sumamos el hecho de que la mayoría de estos discos no sobrevivieron a las fiestas, conciertos y compartir canciones con amigos, es muy inusual para encontrarlos alguna vez en este tipo de condición.
"¡Muchos de estos discos nunca se volverán a ver tan limpios y nuevos como el día en que se imprimieron!"