A REEDITAR ÁLBUMES DE DIO EN VIVO
Por Irving Vidro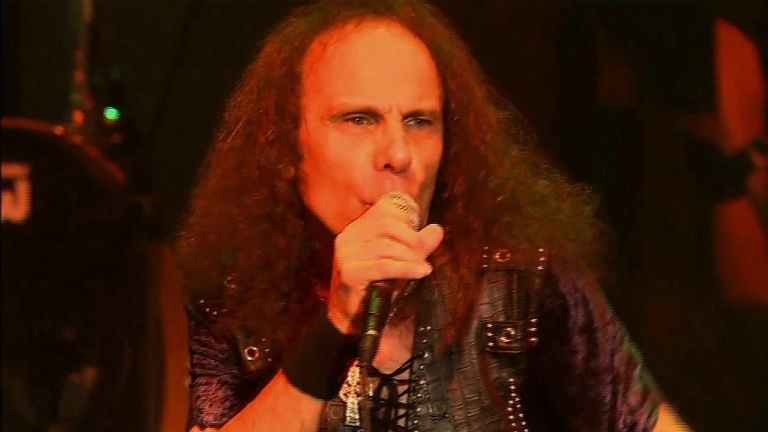 Se reeditarán un par de álbumes en vivo de Dio como parte de la nueva "Serie de reediciones de álbumes en vivo de Dio" de BMG. Los dos primeros lanzamientos serán Evil or Divine: Live in New York City de 2005 y Holy Diver Live de 2006 el 12 de febrero.
Los documentos en vivo volverán a estar en vinilo por primera vez en años, con las impresiones originales agotadas y altamente coleccionables. A pesar de llegar relativamente tarde en la carrera de Ronnie James Dio, ambos álbumes son un poderoso testimonio de la capacidad del difunto cantante para dominar el escenario e incitar a una multitud de maníacos del heavy metal.
Una grabación nunca antes escuchada de "Lord of the Last Day" (de Evil or Divine) y una versión de "Holy Diver" (de Holy Diver Live) se han compartido junto con el anuncio de prensa de las reediciones, ejemplificando la calidad de estos dos lanzamientos. Son tan potentes como cualquiera de los álbumes de estudio de Dio, y tal vez más, con las hordas presentes gritando las letras al ritmo del legendario líder.
"Estoy muy emocionada de trabajar con BMG, un sello que todavía siente pasión por la música rock", dijo la viuda de Ronnie, Wendy Dio. "Volverán a poner a disposición el catálogo completo de Dio con algunas sorpresas interesantes".
Ambos álbumes se han remasterizado recientemente y cuentan con diseños actualizados. Cada una de las versiones LP se distribuye generosamente en tres placas de cera de 180 gramos para una máxima fidelidad. El lado final de Evil or Divine también incluye cuatro bonus tracks del reciente proyecto de reedición de estudio.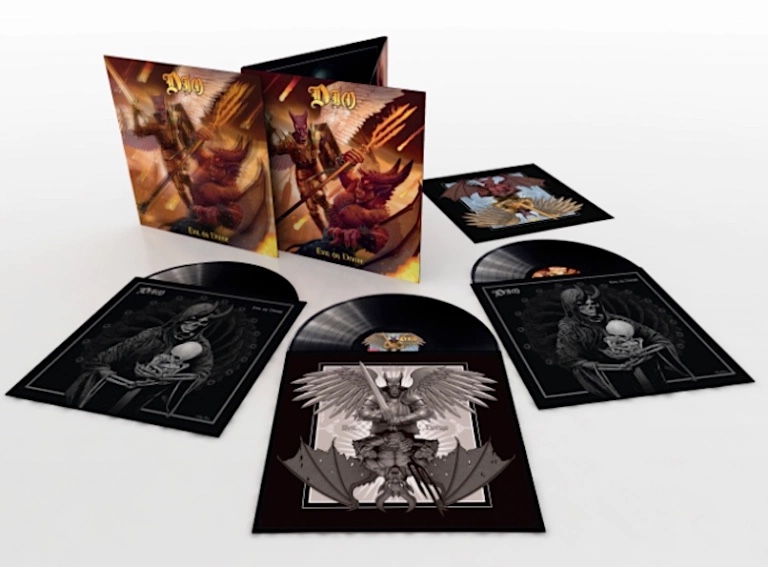 Evil or Divine: Live in New York City Tracklist:
Side A
Killing the Dragon
Egypt (The Chains Are On)
Push
Side B
Drum Solo – Simon Wright
Stand Up and Shout
Rock and Roll
Don't Talk to Strangers
Side C
Man On The Silver Mountain
Guitar Solo – Doug Aldrich
Long Live Rock 'N' Roll
Lord of the Last Day
Side D
Fever Dreams
Holy Diver
Heaven and Hell
Side E
The Last in Line
Rainbow in The Dark
We Rock
Side F (Bonus) – Best of Studio Albums 1996-2004 [LP Only]
This Is Your Life (Angry Machines)
Fever Dreams (Magica)
Push (Killing the Dragon)
The Eyes (Master of the Moon)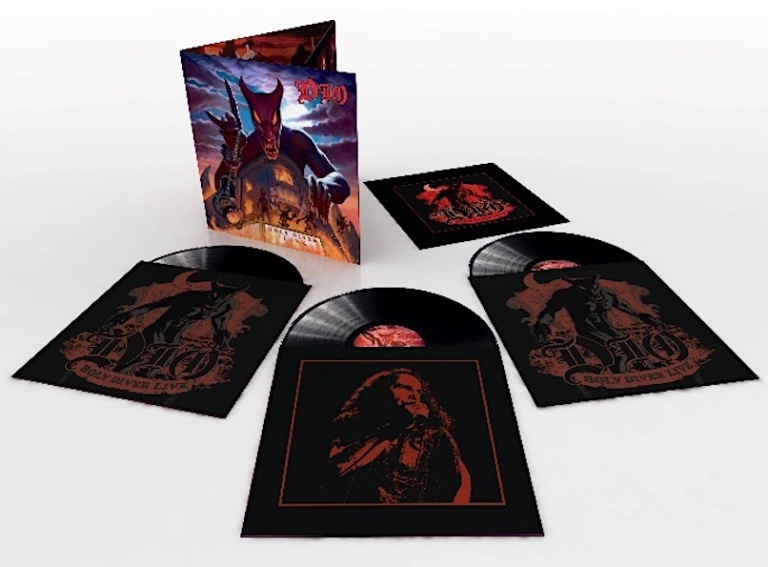 Holy Diver Live Tracklist:
Side A
Intro
Stand Up and Shout
Holy Diver
Gypsy
Drum Solo – Simon Wright
Side B
Caught in the Middle
Don't Talk to Strangers
Straight Through the Heart
Invisible
Side C
Rainbow in the Dark
Shame on the Night
Guitar Solo – Doug Aldrich
Holy Diver (Reprise)
Side D
Tarot Woman
Sign of the Southern Cross
One Night in the City
Side E
Gates of Babylon
Heaven and Hell
Side F
Man on the Silver Mountain
Catch the Rainbow
Long Live Rock 'N' Roll
Call for Encore
We Rock