ZZ TOP A REEDITAR 'LIVE FROM TEXAS' EN DOBLE VINILO
Por Irving Vidro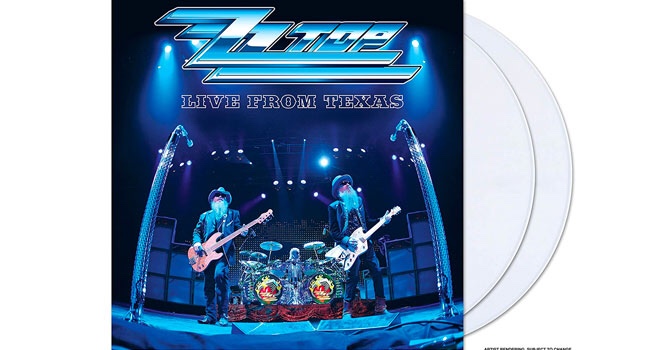 El 25 de septiembre, Eagle Rock Entertainment se enorgullece de lanzar ZZ Top: Live From Texas, una reedición del set de 2 LP, originalmente lanzado en 2010. Ahora, una década después, este concierto clásico estará disponible como una edición limitada especial de 1,000 copias, prensadas en vinilo blanco.
ZZ Top: Live From Texas presenta audio del lanzamiento certificado de doble platino 2008 Live From Texas en DVD / Blu-ray / CD. Además, "Heard It On The X" se incluye como una pista exclusiva en vinilo, una ventaja adicional al lanzamiento del CD original.
Live From Texas captura a ZZ Top interpretando una lista de canciones apiladas de sus célebres temas, incluidas las pistas de su obra maestra de 1983, 10 veces platino, Eliminator. "Tush", "La Grange", "Legs", "Cheap Sunglasses", "Gimme All Your Lovin '", "Sharp Dressed Man" … estas canciones van más allá del título de "hits": son himnos clásicos, entretejidos del rock and roll y la cultura estadounidense.
Grabado en Texas en 2007, este 2 LP muestra sónicamente a Billy F Gibbons, Dusty Hill y Frank Beard entregando sus canciones con el sonido, el espíritu y la arrogancia, estableciéndolos como superestrellas internacionales.
Cinco décadas después de su creación, la "Little Ol' Band From Texas "continúa inspirando y emocionando a los fanáticos de todo el mundo. Uno de los conjuntos musicales más reconocibles al instante en la historia, su gran marca de blues-rock impulsada por el ritmo y su imagen distintiva los convirtió en artistas inimitables y cimentó su legado en el zeitgeist del Rock and Roll. ZZ Top: Live From Texas demuestra esa destreza con creces.