VENDEN GUITARRA DE PRINCE EN $563,500 EN SUBASTA BENÉFICA
Por Irving Vidro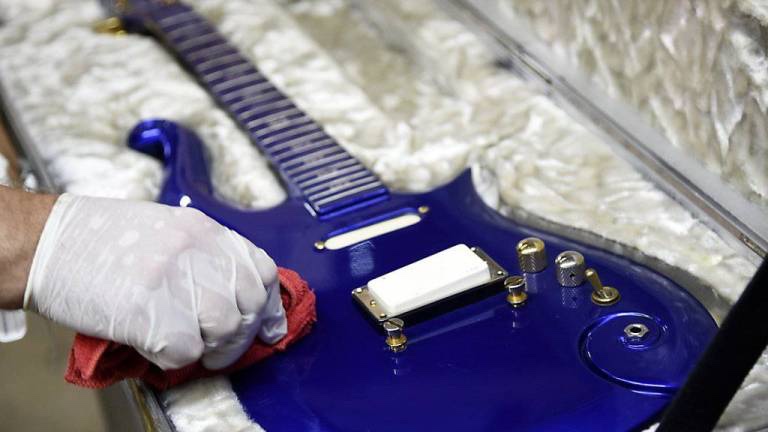 La guitarra Blue Angel Cloud 2 de Prince, que tocaba con frecuencia entre 1984 y 1993, se vendió por $ 563,500 en una subasta de caridad el viernes.
El instrumento fue la guitarra de interpretación de Prince a finales de los 80 y principios de los 90. Lo tomó en las giras de "Purple Rain", "Parade", "Sign o' the Times "," Lovesexy "y" Diamonds and Pearls"; lo usó para tocar "Electric Chair" ​​durante el especial del 15º aniversario de Saturday Night Live el 24 de septiembre de 1989; lo presentó para la infame actuación de los MTV Video Music Awards de 1991 de "Get Off"; lo sostuvo en la portada de SPIN en septiembre de 1991; abrió su aparición el 9 de septiembre de 1991 en The Arsenio Hall Show usándolo para "Let's Go Crazy", "Cream" y "Purple Rain"; y lo presentó en los videos musicales de "Cream" y "Get Off".
La historia de las guitarras Cloud de Prince es fascinante. Prince había pedido a la tienda de música Knut Koupeé de Minneapolis que ayudara a diseñar una guitarra que llamara la atención de The Kid's en Purple Rain. Presentó al equipo un bajo Sardonyx como punto de partida, y Karl Dedolph y Jeff Hill de Knut Koupeé se pusieron a trabajar. Ellos "Frankensteined" un modelo de O'Hagan Shark en el instrumento blanco utilizado en la película, que ahora se encuentra en el Smithsonian. Prince estaba contento con el resultado, ya que una vez más encargó a Knut Koupeé para Cloud 2, lo que se conoció como Blue Angel, esta vez basado en un modelo de O'Hagan Nightwatch.
Con los años, la guitarra ha sido repintada y repintada en blanco, melocotón, azul claro y amarillo antes de decidirse por su color actual de azul eléctrico. El mástil de la guitarra también está agrietado entre los trastes sexto y séptimo hasta el cabezal.
"Es la guitarra Prince más importante que saldrá a subasta", dijo el fundador y presidente de Julien Auctions, Darren Julien.
Prince's Cloud 2 no es la única guitarra importante para subastar este fin de semana: el Martin D-18E de Kurt Cobain, que utilizó para la presentación de MTV Unplugged de Nirvana, se venderá el sábado.