U2 ANUNCIA EDICIÓN 20 ANIVERSARIO DE 'ALL THAT YOU CAN'T LEAVE BEHIND',COMPARTE VERSIÓN ACÚSTICA DE 'STUCK IN THE MOMENT YOU CAN'T GET OUT OF'
Por Irving Vidro
U2 ha anunciado una edición remasterizada de "All That You Can't Leave Behind" para conmemorar el vigésimo aniversario del álbum.
Lanzado en octubre de 2000, el décimo trabajo de estudio del grupo, producido por Daniel Lanois y Brian Eno, incluye los temas "Beautiful Day", "Elevation" y "Walk On", y ganó siete premios Grammy.
El 30 de octubre, exactamente 20 años después de su llegada, los fanáticos podrán tener en sus manos una versión reeditada en múltiples formatos, incluida una caja especial Super Deluxe de 51 pistas. Cada edición contendrá el corte adicional "The Ground Beneath Her Feet".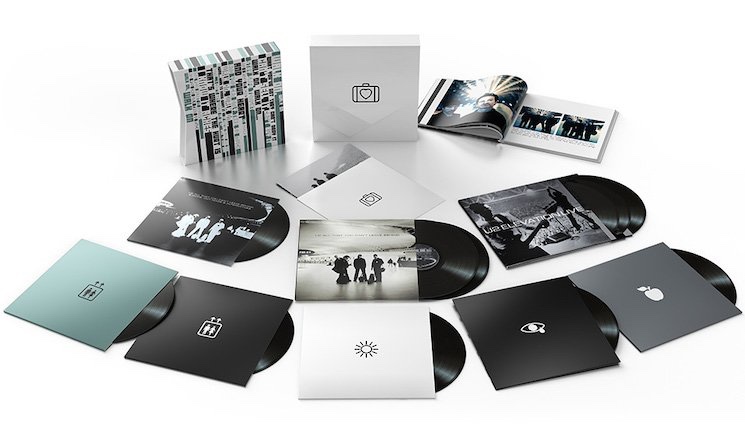 La colección Super Deluxe contará con un libro de tapa dura de 32 páginas, que fue elaborado por el viejo amigo y colaborador de U2, Anton Corbijn, así como 39 pistas adicionales, incluidas las caras B Summer 'Rain', 'Always', 'Big Girls Are Best ',' Don't Take Your Guns To Town'.
También incluirá tomas descartadas de las sesiones del álbum original, 19 pistas grabadas durante el Elevation Tour de la banda y 11 remixes.
El aniversario también está marcado por el lanzamiento de una versión acústica de una de las canciones más queridas del álbum, "Stuck In A Moment You Can't Get Out Of".
La lista de canciones de la reedición de "All That You Can't Leave Behind" es la siguiente: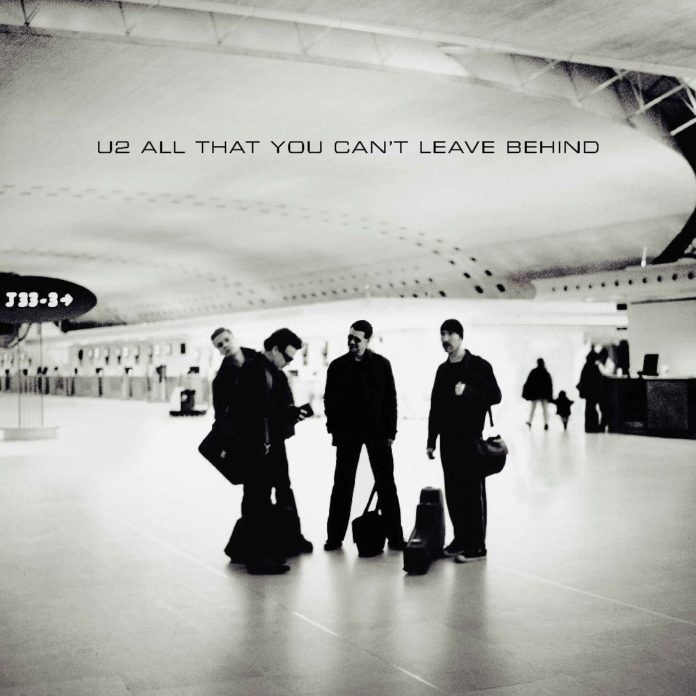 Beautiful Day
Stuck In A Moment You Can't Get Out Of
Elevation
Walk On
Kite
In A Little While
Wild Honey
Peace On Earth
When I Look At The World
New York
Grace
The Ground Beneath Her Feet
La lista de canciones de la versión 5 CD es la siguiente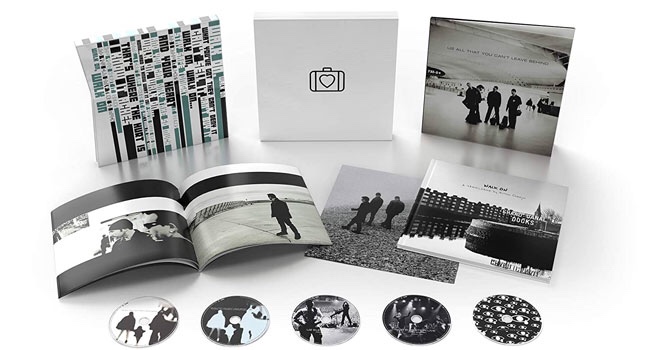 CD 1: All That You Can't Leave Behind (Remastered 2020)
Beautiful Day
Stuck In A Moment You Can't Get Out Of
Elevation
Walk On
Kite
In A Little While
Wild Honey
Peace On Earth
When I Look At The World
New York Grace
The Ground Beneath Her Feet
CD 2: B-Sides/Out-takes/Alternatives
Levitate
Summer Rain
Stateless
Always
Love You Like Mad
Big Girls Are Best
Don't Take Your Guns To Town Stuck In A Moment You Can't Get Out Of (Acoustic Version)
Flower Child
CD 3: Elevation Live From Boston Elevation
Beautiful Day
Until The End Of The World
Stuck In A Moment You Can't Get Out Of
Kite
Gone
New York
I Will Follow
Sunday Bloody Sunday
CD 4: Elevation Live From Boston
In A Little While
Desire
Stay (Faraway, So Close!)
Bad/"40″
Where The Streets Have No Name Bullet The Blue Sky
With Or Without You
The Fly
Wake Up Dead Man
Walk On
CD 5: All That You Can't Leave Behind Remixes
Elevation (Paul Van Dyk Remix) Elevation (Influx Remix)
New York (Carnegie's Deli Mix)
New York (Superman Kicks Ativan Mix)
Beautiful Day (Quincey and Sonance Remix)
Beautiful Day (The Perfecto Mix)
In A Little While (Nightmares On Wax Remix)
Walk On (Wyclef Jean Remix)
When I Look At The World (Picante Remix)
Elevation (Escalation Mix)
Elevation (Quincey and Sonance Remix)