TRIUMPH SE UNE EN VIVO UNA VEZ MÁS
Por Irving Vidro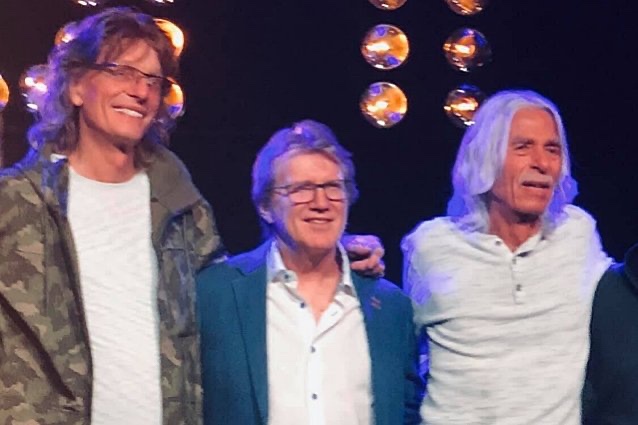 El sábado 16 de noviembre, las leyendas del rock canadiense Triumph reformaron su formación clásica, compuesta por el baterista Gil Moore, el guitarrista Rik Emmett y el bajista Mike Levine, y tocaron juntos públicamente en un evento solo por invitación para aproximadamente 300 "superfans" en el estudio MetalWorks en Mississauga (un suburbio de Toronto), Ontario, Canadá. Según el ex editor de la revista M.E.A.T. Drew Masters, el set de tres canciones, que fue grabado para el próximo documental "Triumph: Lay It On The Line", no solo fue la primera actuación de Triumph en 11 años, sino también la primera como un trío de poder de tres piezas. en 31 años Las pistas reproducidas fueron "When The Lights Go Down", "Lay It On The Line" y "Magic Power".
Producido por Banger Films, galardonado con el premio Emmy y Peabody, "Triumph: Lay It On The Line" es un documental original de Crave que es un emocionante viaje a través de la historia de una de las bandas más desconocidas del rock. Programada para su lanzamiento en 2020, la película cubre los humildes comienzos de Triumph como elementos básicos del circuito de GTA a mediados de los 70 hasta su apogeo como giras gigantes, vendiendo arenas y estadios en toda América del Norte con sus legendarios espectáculos en vivo espectaculares, y mucho más allá .