TRIUMPH A RELANZAR CLASSICS EN DOBLE VINILO PLATEADO
Por Irving Vidro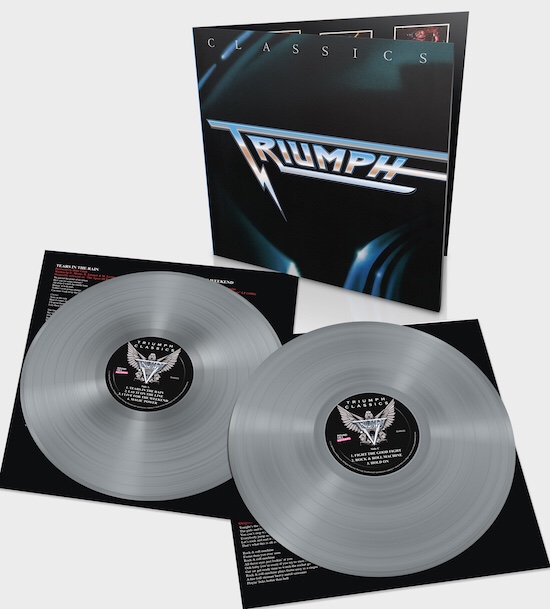 01. Tears In The Rain
02. Lay It On The Line
03. I Live For The Weekend
04. Magic Power
05. Somebody's Out There
06. Spellbound
07. A World of Fantasy
08. Follow Your Heart
09. Fight The Good Fight
10. Rock & Roll Machine
11. Hold On
12. Never Surrender (Live at the US Festival)
13. Blinding Light Show/Moon Child (Live at Sweden Rock)
El álbum Classics,de la banda Triumph,será relanzado en vinilo 30 años después de su lanzamiento original.
'Classics' de Triumph será relanzado como un LP doble, prensado en vinilo plateado de 180 gramos
Lanzado originalmente hace 30 años, Classics 'celebró los grandes éxitos del legendario trío canadiense.
Y ahora, el 13 de diciembre de 2019,'Classics' de 13 pistas de Triumph volverán a llegar a los estantes (a través de Round Hill / Triumph Catalog), y todas las gemas esperadas están incluidas: "Lay It on the Line", "Magic Power "," A World of Fantasy "," Fight the Good Fight "y" Hold On ".
También se presentan dos grabaciones en vivo especiales que cierran el set: "Never Surrender" (en vivo en el US Festival) Y "Blinding Light Show / Moon Child (en vivo en Sweden Rock)
"Estamos entusiasmados de mostrar nuestra carrera en la reedición de" Clásicos "", dice la banda. "¡Es un paquete hermoso y suena increíble!"
Compuesto por el baterista / vocalista Gil Moore, el bajista / tecladista Mike Levine y el guitarrista / vocalista Rik Emmett, Triumph se formó en 1975 (proveniente de Mississauga, Ontario, Canadá). Con su combinación única de rock progresivo, heavy metal y melodías altísimas, la banda disfrutó de una serie de éxitos de radio de rock y MTV, en el proceso anotando una serie de álbumes certificados de oro y platino y vendiendo arenas, emocionando a los fanáticos con su shows en vivo.
Y en diciembre, los fanáticos del rock recordarán una vez más el poder que poseía Triumph, en lo más profundo de los "Classics".