THE WHO ANUNCIA 'JOIN TOGETHER @ HOME' ,PRESENTACIONES SEMANALES EN YOUTUBE
Por Irving Vidro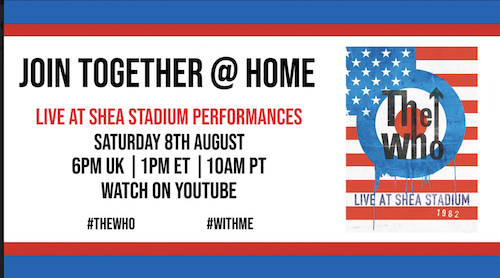 The Who,en colaboración con YouTube, lanzará una celebración de seis semanas de presentaciones en vivo. La serie semanal, titulada "Join Together @ Home" en el canal oficial de YouTube de la banda, comienza este sábado (11 de agosto) a las 10 a.m.PT / 1 p.m. ET / 6 p.m. REINO UNIDO. Cada función, disponible digitalmente por primera vez, aparecerá como un estreno de YouTube, transmitiendo en vivo y rara vez se vean, mini videos y secuencias especiales de pantalla, culminando con una actuación de un programa inédito.
La serie se lanza este fin de semana con cinco canciones en vivo del show Who's 1982 Shea Stadium (Nueva York). Esto se presentará con un exclusivo clip de estreno de "alfombra roja" de Roger Daltrey. "Join Together @ Home" está en asociación con Who y Eagle Rock Entertainment y se transmitirá exclusivamente en YouTube. "Join Together @ Home" es gratuito, pero se alienta a los fanáticos a donar a los cobeneficiarios Teenage Cancer Trust y Teen Cancer America, directamente a través del enlace proporcionado en la página de YouTube www.join-together.org.
Como patrocinador de ambas organizaciones benéficas, Roger Daltrey, junto con Pete Townshend, "ha recaudado la conciencia y los fondos necesarios para ayudar a los jóvenes con cáncer, tanto en el Reino Unido como en los Estados Unidos. Ha sido la fuerza impulsora detrás de los icónicos programas de comedia y música de Teenage Cancer Trust, celebrados en el Royal Albert Hall durante los últimos 20 años ", dice un comunicado de prensa.