THE WHITE STRIPES A LANZAR CANCIONES INÉDITAS Y RAREZAS PARA 20mo ANIVERSARIO DEL ÁLBUM 'DE STIJL'
Por Irving Vidro
The White Stripes ha anunciado detalles de un álbum complementario de su LP 2000 "De Stijl" para celebrar su vigésimo aniversario.
El nuevo lanzamiento estará disponible exclusivamente a través del servicio de suscripción de Third Man Records Vault.
Lanzado exclusivamente en vinilo doble, el nuevo álbum presentará una serie de demos acústicas originales de Jack White para el álbum, grabaciones en vivo y lados B de la era 'De Stijl', junto con versiones de AC / DC, The Velvet Underground y más.
El primer LP presenta versiones inéditas de Burt Bacharach y Hal David's "I Just Don't Know What to Do With Myself " y Thee Headcoats "You're Right,I'm Wrong", grabado en Melbourne, Australia en 2000.
Mientras tanto, el segundo disco es una grabación del espectáculo de la ciudad natal de Nochevieja de 2001 de la banda en el Magic Stick de Detroit, que incluye versiones de 'Let There Be Rock' de AC / DC y 'After Hours' de The Velvet Underground, tema en el que canta Meg White
En otra parte del nuevo paquete de aniversario hay varios recuerdos nunca vistos que incluyen un folleto de fotografías y letras escritas a mano.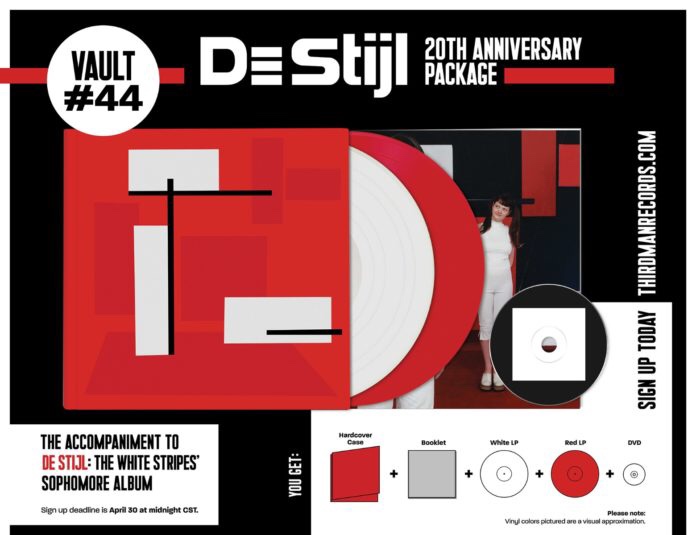 LP1 tracklist
Truth Doesn't Make a Noise
A Boy's Best Friend
Sister, Do You Know My Name?
I'm Bound to Pack It Up
Expecting
Vanilla Fields
Piano Octaves
You're Right, I'm Wrong
9 I Just Don't Know What to Do With Myself
LP2 tracklist (New Year's Eve 2001 at the Magic Stick, Detroit)
Let There Be Rock (AC/DC cover)
Dog Eat Dog (AC/DC cover)
You're Pretty Good Looking (For a Girl)
Hello Operator
Death Letter
Little Bird
Lord, Send Me An Angel
Dead Leaves and the Dirty Ground
Apple Blossom
Broken Bricks
Cannon
Truth Doesn't Make a Noise
Jolene
I'm Bored
Let's Build a Home / Goin' Back to Memphis
Suzy Lee
After Hours (Velvet Underground cover)