THE REPLACEMENTS A LANZAR BOX SET DE SU ÁLBUM 'PLEASED TO MEET ME' CON 29 TEMAS INÉDITOS
Por Irving Vidro
The Replacements ha anunciado un nuevo Box Set de lujo de su aclamado quinto álbum de estudio, Pleased to Meet Me. La colección, que saldrá el 9 de octubre de Rhino, presenta 29 canciones de la banda nunca antes lanzadas, incluidas sus grabaciones finales con el guitarrista Bob Stinson.
Remasterizada por Justin Perkins (quien manejó los mismos deberes en la excelente caja Pop de Dead Man's del año pasado), la edición de lujo Pleased to Meet Me se extiende en tres CD y un disco de vinilo de 12 pulgadas. El primer CD presenta el LP original junto con lados B y rarezas, coronado con un remix de Jimmy Iovine del clásico "Can't Hardly Wait".
El disco 2 captura las sesiones de verano de 1986 en los estudios Blackberry Way de Minneapolis que condujeron al álbum final. Entre las 15 demostraciones hay 11 grabaciones inéditas, las primeras siete son las últimas en presentar los cuatro miembros originales de Replacement. Las otras demos encuentran que la banda está grabando como un trío: el cantante / guitarrista Westerberg, el bajista Tommy Stinson y el baterista Chris Mars, sin el otro Stinson.
Las 23 pistas finales contenidas en el Disco 3 incluyen 13 mezclas aproximadas recientemente reveladas de la mayoría de Pleased to Meet Me, además de cortes profundos como "Election Day" y "Birthday Gal". Mezcladas por el ingeniero de estudio John Hampton, las docenas de canciones de este panadero también se presentan en el disco de vinilo de 180 gramos del set. El disco 3 se completa con tomas recién reveladas ("Run for the Country" de Westerberg y "Learn How to Fail"; "Trouble on the Way" de Tommy Stinson) y previamente lanzado (All for Nothing / Nothing for All selections "Beer For Breakfast"y" I Don't Know").
La caja de lujo Pleased to Meet Me también incluye un libro de tapa dura de 12 × 12 con imágenes raras y una historia del álbum del autor Bob Mehr de Trouble Boys: The Trust Story of the Replacements. Los paquetes especiales a la venta a través de la tienda en línea de Rhino incluyen una camiseta, una bolsa de mano, una pegatina para el parachoques, un mantel individual y, lo más intrigante, una grabación en cassette de una entrevista de Westerberg de la época presentada por primera vez en su totalidad.
Como anticipo de la colección, The Replacements ha compartido seis de las mezclas aproximadas del Disco 3: "Alex Chilton", "Valentine", "Never Mind", "Birthday Gal", "Election Day" y "Kick It In" .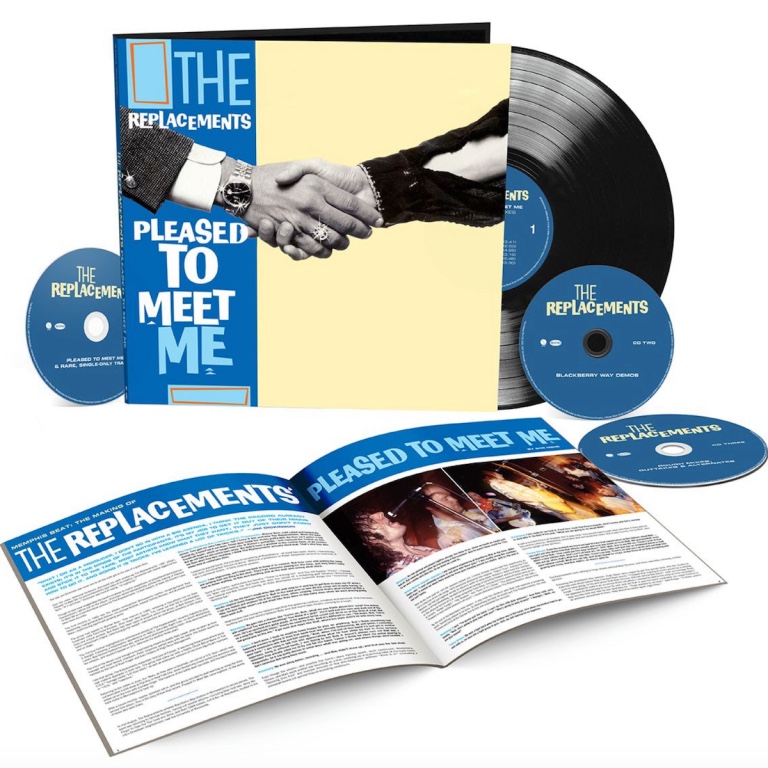 Pleased to Meet Me (Deluxe Edition) Tracklist:
Disc One: Pleased to Meet Me (2020 Remaster) + Rare, Single-Only Tracks
I.O.U.
Alex Chilton
I Don't Know
Nightclub Jitters
The Ledge
Never Mind
Valentine
Shooting Dirty Pool
Red Red Wine
Skyway
Can't Hardly Wait
Election Day
Jungle Rock
Route 66
Tossin' n' Turnin'
Cool Water
Can't Hardly Wait – Jimmy Iovine Remix
Disc Two: Blackberry Way Demos
Bundle Up – Demo
Birthday Gal – Demo
I.O.U. – Demo *
Red Red Wine – Demo *
Photo – Demo
Time Is Killing Us – Demo *
Valentine – Demo
Awake Tonight – Demo *
Hey Shadow – Demo *
I Don't Know – Demo *
Kick It In – Demo 1 *
Shooting Dirty Pool – Demo *
Kick It In – Demo 2 *
All He Wants To Do Is Fish – Demo *
Even If It's Cheap – Demo *
Disc Three: Rough Mixes, Outtakes, & Alternates
Valentine – Rough Mix *
Never Mind – Rough Mix *
Birthday Gal – Rough Mix *
Alex Chilton – Rough Mix *
Election Day – Rough Mix *
Kick It In – Rough Mix *
Red Red Wine – Rough Mix *
The Ledge – Rough Mix *
I.O.U. – Rough Mix *
Can't Hardly Wait – Rough Mix *
Nightclub Jitters – Rough Mix *
Skyway – Rough Mix *
Cool Water – Rough Mix *
Birthday Gal
Learn How To Fail *
Run For The Country *
All He Wants To Do Is Fish
I Can Help – Outtake *
Lift Your Skirt *
'Til We're Nude
Beer For Breakfast
Trouble On The Way *
I Don't Know – Outtake
LP Track Listing
Side A
Valentine – Rough Mix *
Never Mind – Rough Mix *
Birthday Gal – Rough Mix *
Alex Chilton – Rough Mix *
Election Day – Rough Mix *
Kick It In – Rough Mix *
Side B
Red Red Wine – Rough Mix *
The Ledge – Rough Mix *
I.O.U. – Rough Mix *
Can't Hardly Wait – Rough Mix *
Nightclub Jitters – Rough Mix *
Skyway – Rough Mix *
Cool Water – Rough Mix *