THE PRETENDERS ANUNCIA NUEVO ÁLBUM 'HATE FOR SALE',PRESENTA PRIMER SENCILLO 'THE BUZZ'
Por Irving Vidro
The Pretenders ha anunciado detalles de su nuevo álbum "Hate For Sale", así como también ha compartido la primera canción que llegó del disco.
El primer disco de la banda liderada por Chrissie Hynde desde "Alone" de 2016, "Hate For Sale" también es el primer álbum que se graba con la formación de gira de larga data del grupo.
Antes del lanzamiento del disco el 1 de mayo a través de BMG, el grupo ha compartido una nueva canción "The Buzz", que ve al grupo explorar los problemas más amplios de la drogadicción.
Hablando de "The Buzz", Chrissie Hynde dijo: "Creo que todos sabemos que las relaciones amorosas pueden asumir las características de la adicción a las drogas". Se trata de eso. No es mío, por supuesto, nunca soy obsesivo, nunca obsesivo, nunca obsesivo ".
Mientras "Hate For Sale" ve al grupo unir fuerzas con el legendario productor de Blur Stephen Street, el disco también es el primero en ser escrito en colaboración por Chrissie Hynde y el guitarrista James Walbourne.
Hynde dijo sobre trabajar con Walbourne: "Quería escribir con él desde el primer día. James es especialmente buscado y ha grabado con Jerry Lee Lewis, Dave Gahan y The Rails, por nombrar solo algunos. Siempre planeamos escribir mientras estábamos de gira, pero como cualquier persona de una banda te dirá, estar de gira es el sueño de un postergador hecho realidad ".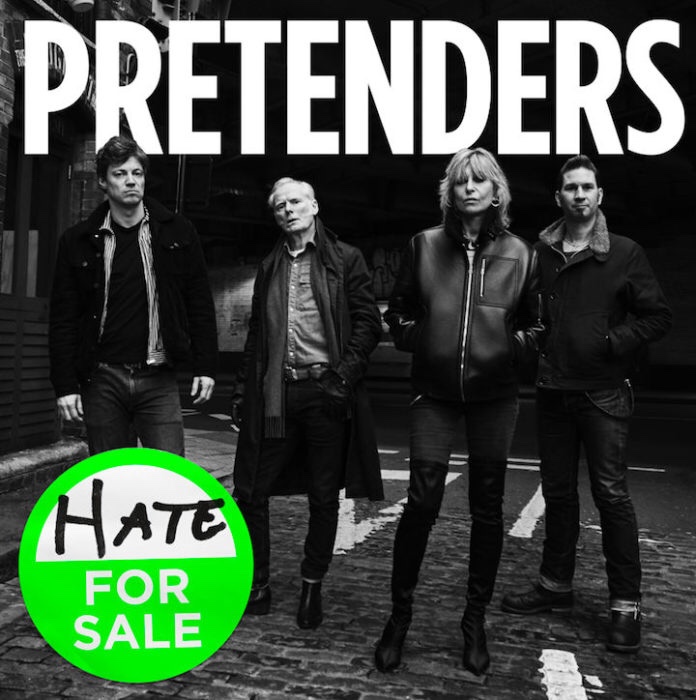 'Hate For Sale'
'The Buzz'
'Lightning Man'
'Turf Accountant Daddy'
'You Can't Hurt a Fool'
'I Didn't Know When To Stop'
'Maybe Love Is In NYC'
'Junkie Walk'
'Didn't Want To Be This Lonely'
'Crying in Public'