THE OFFSPRING REPARTE ALMUERZOS A ESTUDIANTES EN SU COMUNIDAD
Por Irving Vidro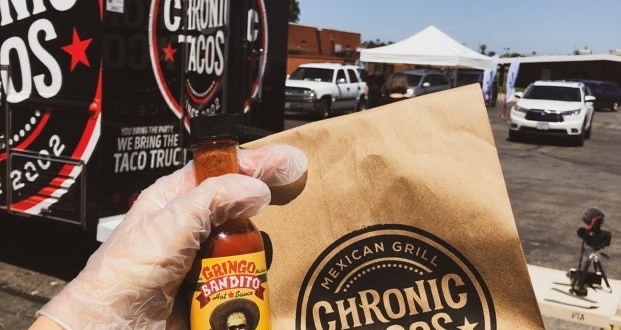 En un esfuerzo continuo por hacer el bien y apoyar a su comunidad local durante la pandemia de COVID-19, la banda de punk rock y los nativos del Condado de Orange, The Offspring, se asoció esta semana con el asador mexicano Chronic Tacos y Gringo Bandito (fundado por el cantante principal de The Offspring, Dexter Holland) para servir el almuerzo a estudiantes locales calificados fuera de la Escuela Primaria Perry en Huntington Beach, ya que los servicios de almuerzo patrocinados por la escuela se interrumpieron durante las vacaciones de primavera esta semana. Juntos, suministraron más de 400 comidas, incluyendo un pequeño burrito, papas fritas, salsa y agua embotellada, del popular camión de comida Chronic Tacos.
El camión de comida estaba estacionado en el estacionamiento de la escuela, donde The Offspring, los empleados de Chronic Tacos y los miembros del Distrito Escolar de Huntington Beach ayudaron a repartir almuerzos a familias de estudiantes que dependen de comidas suplementarias de la escuela.