THE DOORS NOS PRESENTA EDICIÓN 50 ANIVERSARIO DE SU ÁLBUM 'MORRISON HOTEL'
Por Irving Vidro
El célebre álbum de 1970 de The Doors, Morrison Hotel, recibirá una extensa reedición en honor a su 50 aniversario.
Morrison Hotel: 50th Anniversary Deluxe Edition incluirá una copia en vinilo del álbum original, una versión recientemente remasterizada del LP original en CD y un segundo CD con una colección de tomas descartadas de estudio.
Estas gemas inéditas incluyen varias versiones de "Queen of the Highway", "Roadhouse Blues" y una versión del clásico de R&B "Money (That's What I Want)".
"Hay muchas tomas, diferentes arreglos, comienzos en falso y conversaciones de estudio perspicaces entre la banda, que estaba en el estudio, y el productor Paul Rothchild, que estaba en la sala de control", señaló el ingeniero Bruce Botnick, el hombre a cargo de ensamblar el anterior material inaudito. "Es como ser una mosca en la pared".
También entre las tomas descartadas hay versiones crudas de las canciones de Morrison Hotel "Peace Frog" y "Blue Sunday".
Morrison Hotel: 50th Anniversary Deluxe Edition estará disponible el 9 de octubre. La música también estará disponible en servicios digitales y de transmisión el mismo día.
Tras su LP experimental y polarizante de 1969 The Soft Parade, Morrison Hotel marcó un enfoque de vuelta a lo básico para The Doors. El resultado fue una obra maestra de blues psicodélico, aclamada tanto por los fanáticos como por los críticos.
Además de la reedición, The Doors celebrará el 50 aniversario del Morrison Hotel con una nueva línea de productos oficiales. Una variedad de artículos, que incluyen sudaderas con capucha, sudaderas, calcetines, una camiseta, una chaqueta vaquera y un llavero de Morrison Hotel, ya están disponibles en el sitio web de la banda.
El grupo también anunció un cómic de Morrison Hotel a principios de este año.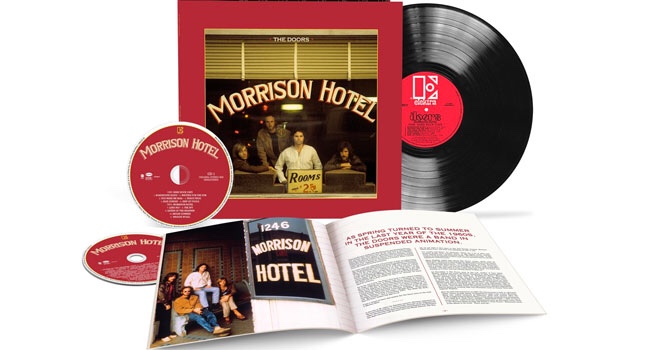 The Doors, 'Morrison Hotel: 50th Anniversary Deluxe Edition' Track Listing
Disc One: The Original Album
"Roadhouse Blues"
"Waiting For The Sun"
"You Make Me Real"
"Peace Frog"
"Blue Sunday"
"Ship Of Fools"
"Land Ho!"
"The Spy"
"Queen Of The Highway"
"Indian Summer"
"Maggie M'Gill"
Disc Two: Mysterious Union
"Queen Of The Highway" (Take 1, She Was A Princess)
"Queen Of The Highway" (Various Takes)
"Queen Of The Highway" (Take 44, He Was A Monster)
"Queen Of The Highway" (Take 12, No One Could Save Her)
"Queen Of The Highway" (Take 14, Save The Blind Tiger)
"Queen Of The Highway" (Take 1, American Boy – American Girl)
"Queen Of The Highway" (Takes 5, 6 & 9, Dancing Through The Midnight Whirlpool)
"Queen Of The Highway" (Take 14, Start It All Over)
"I Will Never Be Untrue"
"Queen Of The Highway" (Take Unknown)
"Roadhouse Blues" (Take 14, Keep Your Eyes On The Road)
"Money (That's What I Want)"
"Rock Me Baby"
"Roadhouse Blues" (Takes 6 & 7, Your Hands Upon The Wheel)
"Roadhouse Blues" (Take 8, We're Goin' To The Roadhouse)
"Roadhouse Blues" (Takes 1 & 2, We're Gonna Have A Real Good Time)
"Roadhouse Blues" (Takes 5, 6 & 14, Let It Roll Baby Roll)
"Peace Frog/Blue Sunday" (Take 4)
"Peace Frog" (Take 12) *
LP Track Listing
Side One: Hard Rock Cafe
"Roadhouse Blues"
"Waiting For The Sun"
"You Make Me Real"
"Peace Frog"
"Blue Sunday"
"Ship Of Fools"
Side Two: Morrison Hotel
"Land Ho!"
"The Spy"
"Queen Of The Highway"
"Indian Summer"
"Maggie M'Gill"