THE BLACK CROWES,PRIMERA AGRUPACIÓN AL 'BUDWEISER STAGE AT HOME'
Por Irving Vidro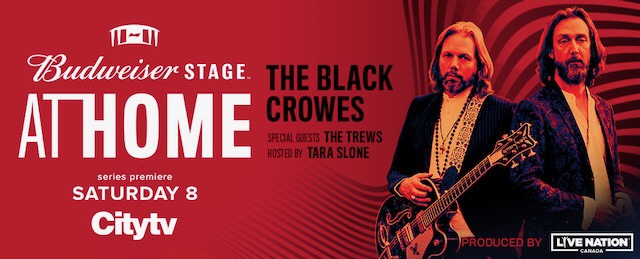 Hoy, Live Nation Canada y Budweiser anuncian Budweiser Stage At Home, una experiencia de concierto semanal de una hora para que los fanáticos disfruten en la comodidad de su propio hogar. El icónico lugar de música frente al mar será transportado desde el centro de Toronto a las casas de los canadienses de costa a costa.
El estreno de la serie contará con The Black Crowes con The Trews y será presentado por Tara Slone, músico nominado a Juno y presentador de Rogers Hometown Hockey. A partir del sábado 30 de mayo a las 8 PM, los fanáticos de la música pueden ver la serie especial de conciertos semanales cada sábado en Citytv y Citytv.com. Los eventos también estarán disponibles para transmitir en las aplicaciones Citytv iOS y AppleTV, así como en la plataforma Live From Home de Live Nation, más detalles a continuación.
"El mes de mayo siempre ha sido el inicio del verano con la apertura de Budweiser Stage, sin embargo, durante estos tiempos sin precedentes, todos hemos tenido que cambiar la forma en que vivimos nuestras vidas. Pero no ha cambiado el compromiso de Budweiser con su comunidad ", dijo Todd Allen, vicepresidente de marketing de Labatt Breweries de Canadá. "Budweiser Stage at Home nos permite elevar la experiencia de música en casa mientras creamos grandes momentos para que los amigos celebren a distancia".

Aunque esta temporada puede parecer diferente, Budweiser Stage at Home espera continuar compartiendo música y entretenimiento con su comunidad de fanáticos.

Itinerario :
Sábado, 30 de mayo a las 8 PM, EST:
The Black Crowes con The Trews

Sábado, 6 de junio a las 8 PM, EST:
Blue Rodeo y Alan Doyle
Ver en:
CITY TV
Transmisión en vivo simultánea en Citytv.com, aplicación Citytv iOS, aplicaciones AppleTV
Live From Home – El nuevo centro de música virtual de Live Nation