THE ABCs OF METALLICA "C IS FOR CLIFF"
Por Irving Vidro
En julio, Metallica anunció que combinarían su amor por la familia y la pasión por la caridad en un nuevo proyecto divertido: un libro para niños titulado The ABCs of Metallica. Una "rima, historia ilustrada" de la banda, el volumen fue ilustrado por Michael "Kaves" McLeer y escrito por Howie Abrams, el último de los cuales también co-escribió The Merciless Book of Metal Lists con Sacha Jenkins y Misfit Summer Camp: 20 Years on the Road With the Vans Warped Tour with Kevin Lyman. Ayer (15 de noviembre), los creadores y Metallica se asociaron con Revolver para presentar una difusión muy especial del libro: las dos páginas dedicadas a "C is for Cliff".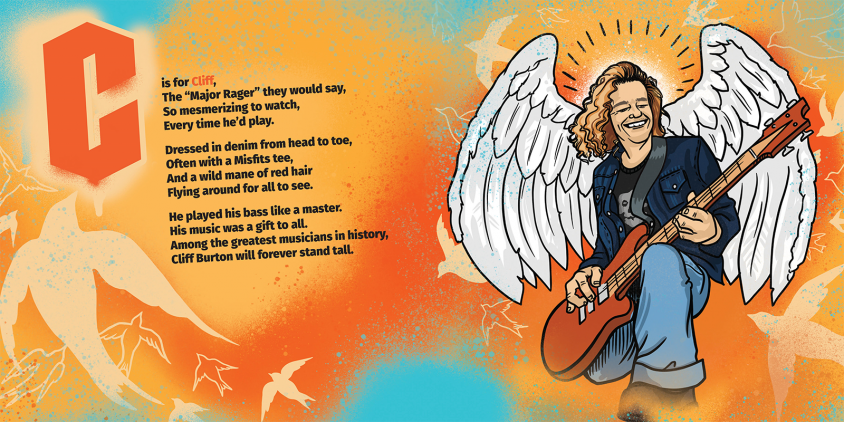 Junto a un dibujo del difunto y gran bajista de Metallica con alas de ángel, aparece la siguiente rima:
C is for Cliff
The "Major Rager" they would say,
So mesmerizing to watch,
Every time he'd play.
Dressed in denim from head to toe,
Often with a Misfits tee,
And a wild mane of red hair
Flying around for all to see.
He played his bass like a master.
His music was a gift to all.
Among the greatest musicians in history,
Cliff Burton will forever stand tall.
Las ganancias de las ventas de The ABCs of Metallica beneficiarán a la organización benéfica de la banda, la fundación All Within My Hands, que está "dedicada a crear comunidades sostenibles mediante el apoyo a la educación de la fuerza laboral, la lucha contra el hambre y otros servicios locales críticos".