SUMMER ENCORE FESTIVAL,SERIE DE CONCIERTOS A TRANSMITIRSE EN LÍNEA
Por Irving Vidro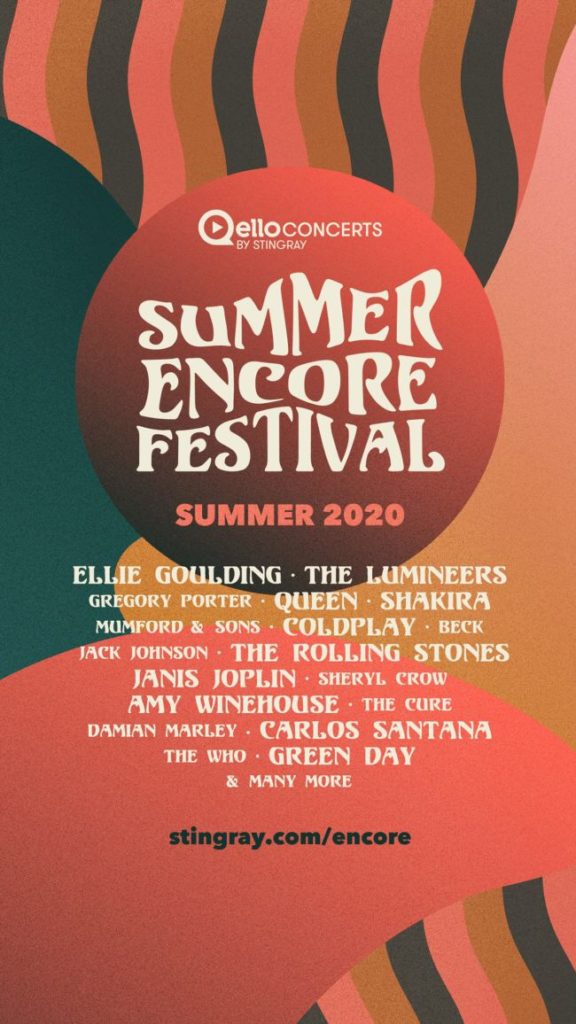 Los sets de conciertos de docenas de artistas se transmitirán en línea en el transcurso de tres semanas gracias a Quello Concerts y el Summer Encore Festival de Stingray.
La serie de conciertos comenzará el 29 de julio y se extenderá hasta el 18 de agosto, donde los fanáticos pueden esperar archivos de artistas como Queen, Pink Floyd, los Rolling Stones, Paul McCartney, Janis Joplin, Toto, Carlos Santana, The Who, Green Day y la cura.
Los organizadores dicen: "A lo largo del festival en línea de tres semanas, los espectadores podrán tomar el sol en Rock In Rio, experimentar la energía impresionante del estadio de Wembley, transportarse en el tiempo a la madre icónica y electrizante de todos los festivales, Woodstock, viaja a través del canal para unirte a las multitudes en el festival más grande de Francia, Eurockéennes, y muchos más, todo desde su sala de estar.
"Experimenta la magia pura del legendario show de Wembley Stadium de Queen, los icónicos sets de Pink Floyd y Paul McCartney en vivo en Knebworth en 1990, la famosa actuación de Woodstock de Janis Joplin, más conciertos de Wu-Tang Clan, The Killers, Sam Smith, Green Day, Bob Marley, The Who y muchos más.
Los fanáticos pueden comprar pases para el Summer Encore Festival a través del sitio web oficial (stingray.com/encore), mientras que algunos de los espectáculos serán gratuitos. Encuentra el orden de presentaciones completo a continuación.
Summer Encore Festival 2020 full lineup
Semana 1: Julio 29 – Agosto 4

Queen: Live At Wembley Stadium
Pink Floyd: Live At Knebworth 1990 – Volume III
Shakira: Live From Paris
Wu-Tang Clan: Live In Montreux
Mumford And Sons: The Road To Red Rocks
Ellie Goulding: Live At Main Square 2016*
Enrique Iglesias: Vina Del Mar 2000*
The Lumineers: Live At Musilac 2017*
Royal Blood: Eurockéennes 2017*
Gregory Porter: Nice Jazz Festival 2021*
Semana 2: Agosto 5 – Agosto 11

The Rolling Stones: Sweet Summer Sun: Hyde Park
Paul McCartney: Live At Knebworth 1990 – Volume 1
Janis Joplin: 50th Anniversary Of Woodstock
Sheryl Crow: Miles From Memphis
The Killers: Live At Festival 2014
Coldplay: Live At Cigale 2012*
Toto: Vina Del Mar 2004*
Beck: Live At Eurockéennes 2016*
Jack Johnson: Main Square 2014*
INXS: Vina Del Mar 2003*
Semana 3: Agosto 12 – Agosto 18
Carlos Santana: Greatest Hits – Live At Montreux 2011
Katy Perry: Rock In Rio 2015
The Who: Live At Hyde Park
Bob Marley And The Wailers: Live In Concert
Sam Smith: Live At V Festival 2014
Green Day: Bullet In A Bible
Amy Winehouse: Live At Eurockéennes 2007*
The Cure: Live At Eurockéennes 2012*
Michael Kiwanuka: Garorock Festival 2017*
Damien Marley: Eurock 15*
Of Monsters And Men: Main Square Festival 2013*