STYX ANUNCIA PRIMERAS FECHAS PARA GIRA 2020

Por Irving Vidro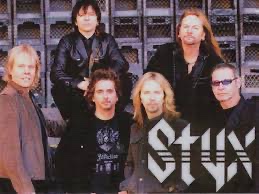 Styx ha anunciado siete fechas de gira en Estados Unidos para enero de 2020, con más por seguir.
Lanzarán el viaje por carretera en Phoenix el 10 de enero, con la última aparición anunciada que tendrá lugar en Las Vegas el 19 de enero. La banda señaló que los planes lo mantendrían en el camino durante todo el año. Puede ver la lista completa de fechas programadas hasta ahora a continuación.
Styx Gira 2020
Enero 10 – Phoenix, AZ @ Celebrity Theatre
Enero 11 – Phoenix, AZ @ Celebrity Theatre
Enero 12 – Beverly Hills, CA @ Saban Theatre
Enero 14 – Anaheim, CA @ City National Grove of Anaheim
Enero 15 – San Jose, CA @ San Jose Center for the Performing Arts
Enero 17 – Reno, NV @ Silver Legacy Casino
Enero 19 – Las Vegas, NV @ The Pearl
El último álbum de Styx, The Mission, fue lanzado en 2017 después de un descanso de 14 años de acción en el estudio, pero el bajista Ricky Phillips dijo recientemente que volverían a grabar "absolutamente" en el futuro cercano.