STING LANZA EDICIÓN DIGITAL EXPANDIDA DEL ÁLBUM 'THE SOUL CAGES' EN SU 30 ANIVERSARIO
Por Irving Vidro
Se lanzó una edición ampliada del álbum de 1991 de Sting, The Soul Cages, en formato digital y en servicios de transmisión.
El álbum, que cumple 30 años el domingo en el Reino Unido (21 de enero en Estados Unidos), generó los sencillos "All This Time", "Mad About You", "The Soul Cages" y "Why Should I Cry For You". "All This Time" fue uno de los cinco sencillos entre los cinco primeros en Estados Unidos, pero solo un éxito menor en otros lugares.
"Mad About You" no logró entrar en el top 40 del Reino Unido, lo que puede parecer sorprendente (especialmente porque es una gran pista), pero la gente tiende a olvidar que los sencillos en solitario de Sting no tuvieron éxito en el Reino Unido en la década de 1980 y las cosas solo mejoraron en la década de 1990. Si quieres algunas estadísticas, de los diez sencillos lanzados de The Dream of the Blue Turtles de 1984 y Nothing Like The Sun de 1987, solo TRES aparecieron en las listas (y uno de ellos fue un remix tardío de 'Englishman In New York' ). "All This Time" alcanzó el puesto 22 en el Reino Unido, lo que fue bastante bueno para Sting. Hugh Padgham produjo The Soul Cages.
Se ofrecen trece pistas adicionales con esta edición digital expandida con la etiqueta que afirma que siete de ellas nunca antes se habían puesto a disposición digitalmente, ya sea por streaming o descarga (algunas de ellas han estado en CD, por lo que no es un verdadero debut digital).
The Soul Cages fue certificado tanto de oro como de platino por la RIAA a las pocas semanas de su lanzamiento, y encabezó las listas de álbumes en cinco países, incluidos el Reino Unido y Canadá. Alcanzó el número 2 en el Billboard 200, mientras que su sencillo principal "All This Time" fue un éxito número 5 en el Hot 100, el número 1 en las listas de rock principal y moderno de Billboard y el número 9 en Adult Contemporary.
La canción que da título al álbum ganó el premio Grammy a la Mejor Canción de Rock en 1992 y fue en sí misma un éxito entre los 10 principales del rock mainstream y el rock moderno. "Mad About You" y "Why Should I Cry For You" también fueron sencillos populares del set.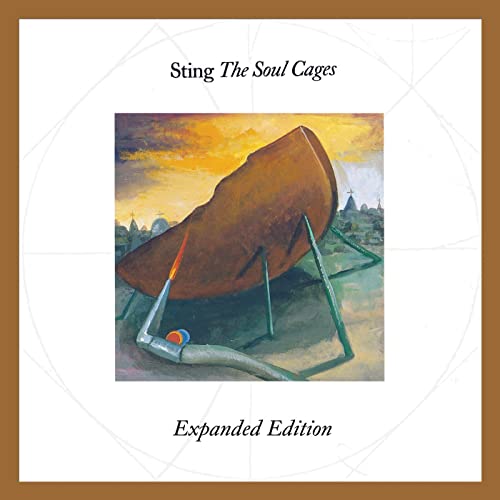 Island Of Souls
All This Time
Mad About You
Jeremiah Blues (Part 1)
Why Should I Cry For You
Saint Agnes And The Burning Train
The Wild Wild Sea
The Soul Cages
When The Angels Fall
Bonus tracks

I Miss You Kate (Instrumental) – From the 'All This Time' CD single
Come Down In Time* Elton John cover from the Two Rooms album
Tempted (Live)* – From the 'Mad About You' CD single
Ne Me Quitte Pas (Live)* From the 'Why Should I Cry For You ' CD single
Oo La La Hugh* From the 'Soul Cages' CD single
Mad About You (Original Remix)* -From the 'Mad About You' US promo CD single
Mad About You (Remix Edit)* From the 'Mad About You' US promo CD single
Mad About You (12″ Remix) * From the 'Mad About You' US promo CD single
18, Mad About You (Italian Version) From the 'Why Should I Cry For You ' Japanese CD single
Why Should I Cry For You (Spanish Version) From the 'Why Should I Cry For You ' Japanese CD single
Why Should I Cry For You (Extended Mix) From the 'Why Should I Cry For You ' Japanese CD single
The Soul Cages (Edit) From the 'Soul Cages' CD single
All This Time (Edit) From various All This Time singles, including the 7″
Not Previously Available Digitally