STEVE HACKETT INTERPRETARÁ 'SECONDS OUT' EN VIVO EN 2020
Por Irving Vidro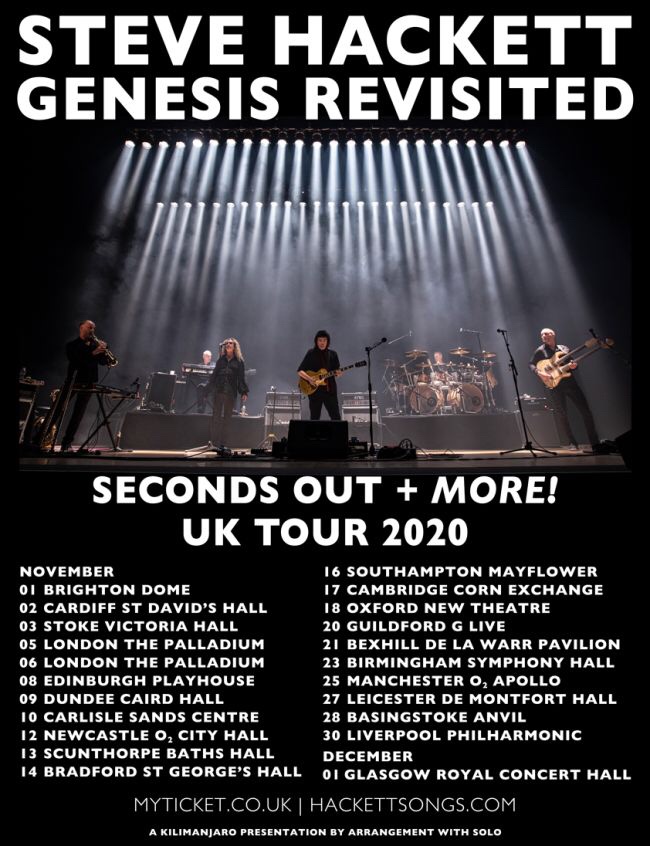 Steve Hackett ha anunciado que tocará todo el icónico álbum de Genesis de 1977, Seconds Out, en vivo de gira el próximo año.
The Seconds Out + More! Tour visitará algunos de los mismos lugares que Genesis tocó en esa gira de 1977. También habrá material adicional, incluido favoritas del concierto en solitario de Hackett, The Steppes, para celebrar el 40 aniversario de su cuarto álbum en solitario, Defector.
Hackett dice: "Estoy encantado de revivir Seconds Out, presentando el material Genesis en su forma más emocionante y virtuosa, esta vez con todos los números tocados en su totalidad más sorpresas adicionales".
Seconds Out fue el exitoso álbum doble grabado en la gira de conciertos de Genesis en 1977 junto con The Cinema Show, de su gira de 1976, y contó con Hackett en la guitarra junto a Mike Rutherford, Tony Banks y Phil Collins, quien había asumido el papel de vocalista, tras la partida de Peter Gabriel.
La gira incluyó música de cada uno de los seis álbumes de estudio de la época de Hackett en Génesis y marcó sus grabaciones finales con la banda cuando se fue para continuar su carrera en solitario una vez que se completó. El álbum fue reeditado en vinilo masterizado a media velocidad a principios de este año.