STEVE HACKETT ANUNCIA 'SELLING ENGLAND BY THE POUND & SPECTRAL MORNINGS:LIVE AT HAMMERSMITH'
Por Irving Vidro
Steve Hackett ha revelado que lanzará Selling England By The Pound & Spectral Mornings: Live At Hammersmith a finales de este año.
El álbum de 21 pistas se lanzará el 25 de septiembre a través de InsideOut Music en 2CD / DVD, 2CD / Blu-ray y en una caja de edición limitada 4LP / 2CD y 2CD / DVD / Blu-ray con libro de arte.
La actuación en Londres fue capturada durante la gira 2019 del ex guitarrista de Genesis, donde se unió al escenario su banda de gira: el vocalista Nad Sylvan, el teclista Roger King, el bajista Jonas Reingold, el baterista Craig Blundell y Rob Townsend en saxofón y flauta. La alineación fue reforzada por invitados especiales John Hackett y Amanda Lehmann.
Hackett dice: "La fusión de tres álbumes favoritos personales, incluido todo Selling England By The Pound, la mayoría de Spectral Mornings y At The Edge Of Light, lo más destacado fue una experiencia en vivo muy especial.
"Tanto el audio como las imágenes de este producto brindan una experiencia alucinante de una velada inolvidable en Hammersmith".
Y agrega: "Es genial tener un espectáculo en vivo especial disponible en estos tiempos desafiantes".
El formato Blu-ray también incluirá un documental de 30 minutos sobre la gira, y Hackett también lanzará un video de Deja Vu del paquete en vivo.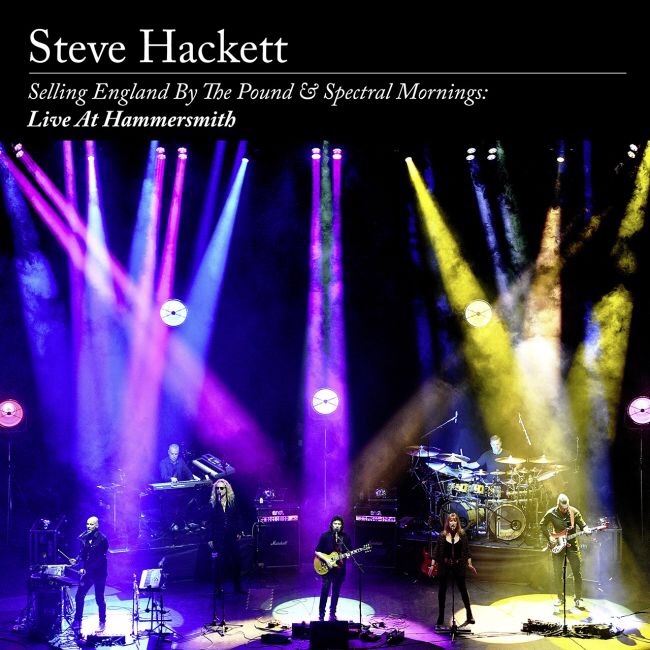 Steve Hackett: Selling England By The Pound & Spectral Mornings: Live At Hammersmith
CD1

Intro
Every Day
Under The Eye of The Sun
Fallen Walls And Pedestals
Beasts Of Our Time
The Virgin And The Gypsy
Tigermoth
Spectral Mornings
The Red Flower Of Tai Chi Blooms Everywhere
Clocks – Angel of Mons
Dancing With The Moonlit Knight
I Know What I Like (In Your Wardrobe)
CD2

Firth Of Fifth
More Fool Me
The Battle Of Epping Forest
After The Ordeal
The Cinema Show
Aisle of Plenty
Deja Vu
Dance On A Volcano
Los Endos