SLAYER A PRESENTAR 'SLAYER:THE REPENTLESS KILLOGY' EN VIDEO ON DEMAND EN EL 'DIA INTERNACIONAL DE SLAYER'
Por Irving Vidro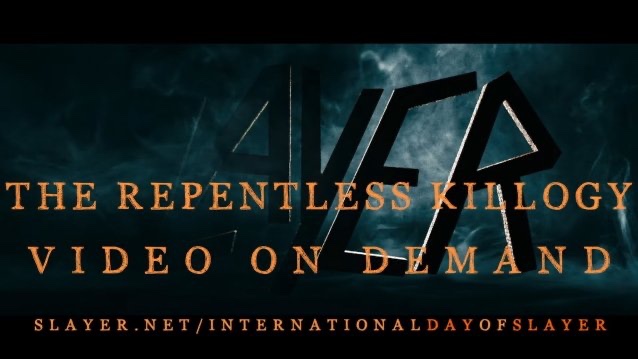 A la medianoche de mañana, sábado 6 de junio, por primera vez desde su estreno en cines y DVD en noviembre pasado, la película "Slayer: The Repentless Killogy" hará su debut en Video On Demand. El lanzamiento es para celebrar el "Día Internacional de Slayer" de mañana, la fiesta anual de heavy metal que conmemora la música de la icónica banda SLAYER. Desde el inicio de la celebración hace 18 años, cada 6 de junio, los fanáticos de SLAYER han organizado un "Slay-out", omitiendo el trabajo o la escuela a favor de pasar el día escuchando a SLAYER a nivel de explosión nuclear, en su automóvil, en casa o en el lugar público de su elección. Sin embargo, este año, para asegurarse de que todos los acólitos de SLAYER se mantengan saludables, el "Día Internacional de Slayer" puede ser celebrado en la privacidad y comodidad de su propio hogar, un "Slay-In". Como parte de la celebración, el largometraje se estrenará a una tarifa especial de $ 6.66 USD durante una semana, con el 50% de los ingresos, donados en nombre de SLAYER, Nuclear Blast y Global Merchandising Services, destinados a la organización benéfica Live Nation Crew Nation para ayudar a apoyar a los miembros del equipo de música en vivo que han sido directamente afectados como resultado de COVID-19.
La primera parte de la película "Slayer: The Repentless Killogy" fue escrita y dirigida por BJ McDonnell, quien concibió y dirigió los tres videos musicales brutales – "You Against You", "Repentless" y "Pride In Prejudice" – para el álbum final de SLAYER "Repentless" (2015). La película comienza con los tres videos musicales reunidos como una historia cronológica, y luego pasa a una narrativa actual escrita y filmada especialmente para esta película. La primera parte está protagonizada por muchos de los actores que aparecieron en la serie de video original: Jason Trost ("Beats of Rage", "Hatchet III"), como Wyatt, Danny Trejo ("Machete", "From Dusk Til Dawn"), Richard Speight ("Band of Brothers", "Supernatural"), Derek Mears ("Agents Of SHIELD"), Jessica Pimentel ("Orange Is The New Black"), Tyler Mane ("X-Men", "Halloween II"), Bill Moseley ("The Devil's Rejects", "The Texas Chainsaw Massacre 2"), Caroline Williams ("The Texas Chainsaw Massacre 2", "Sharknado 4") y Sean Whalen ("Twister", "The People Under The Stairs") .
La segunda parte presenta el set completo de SLAYER en vivo en el Foro de Los Ángeles el 5 de agosto de 2017 y fue dirigido por Wayne Isham, quien dirigió videos para artistas como METALLICA, FOO FIGHTERS, Michael Jackson, Kelly Clarkson y Britney Spears. Presentado frente a una de las producciones teatrales más llamativas de la carrera de la banda, SLAYER interpreta a los favoritos de los fanáticos como "South Of Heaven", "War Ensemble", "Mandatory Suicide", "Dead Skin Mask", "Raining Blood" y "Angel Of Death".
Para la película "Slayer: The Repentless Killogy", la banda – Tom Araya, Kerry King, Gary Holt y Paul Bostaph – fue filmada discutiendo el álbum "Repentless", los fanáticos de SLAYER, siendo miembro de "Big Four" y más en "A Prequel to Slaying …".