'SHAKE THE DEVIL – THE LOST SESSIONS', COLECCIÓN DE TEMAS INÉDITOS DE TOMMY BOLIN
Por Irving Vidro
Este año marcará el 45 aniversario del fallecimiento de Tommy Bolin, el guitarrista y compositor sumamente talentoso, mejor conocido por su trabajo con Deep Purple y The James Gang, que cautivó al mundo con su interpretación sofisticada y feroz.
La trágica muerte de Bolin, apenas tenía 25 años, ha sido uno de los grandes "qué pasaría si" de la música rock, lo que ha obligado a críticos y fanáticos a lidiar con lo que Bolin podría haber logrado en los años siguientes si aún estuviera vivo, dado que logró para producir obras tan asombrosas de arte maduro a una edad tan temprana. Muchos apuntan al álbum más completo y tristemente final de Bolin, el magnífico Private Eyes, como prueba de que, a pesar de todo el éxito de Bolin, el hombre se estaba calentando.
Ahora, se lanzará una nueva colección de tomas descartadas y demos nunca antes publicadas de esas sesiones de grabación que mostrarán los muchos lados del talento de Bolin. La colección se llama Shake The Devil – The Lost Sessions y se lanzará el 12 de febrero por cortesía de Cleopatra Records.
Con licencia directa de la propiedad de Bolin y con notas informativas del periodista de rock Dave Thompson, estas grabaciones ofrecen versiones acústicas, instrumentales y alternativas de algunas de las melodías más conocidas de Bolin, incluida su canción más popular, "Bustin' Out For Rosey ". Esa pista se ofrece hoy como un adelanto especial del álbum, que estará disponible tanto en CD como en un magnífico vinilo plegable con tu elección de vinilo blanco, morado o rojo.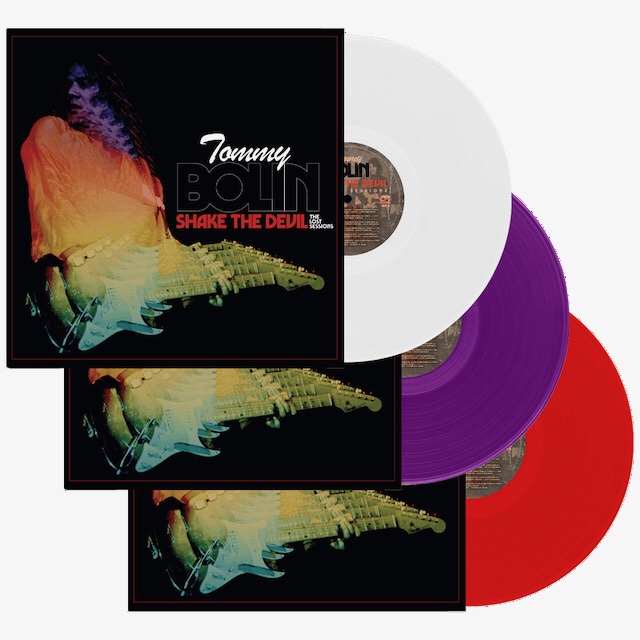 Tracklisting:
"Shake The Devil" (Alternate Mix)
"Bustin' Out For Rosey" (Alternate Version)
"Hello Again" (Outtake, No Strings)
"Gypsy Soul" (Outtake)
"Sweet Burgundy" (Alternate Version)
"Someday We'll Bring Our Love Home" (Instrumental Demo)
"You Told Me That You Loved Me" (Instrumental Demo)
"Post Toastee" (Acoustic Demo)
"Tommy's Instrumental" (Outtake)
"Gypsy Soul" (Acoustic Demo)
"Gypsy Soul" (Rehearsal Demo)
"Someday We'll Bring Our Love Home" (Instrumental Demo)