SCORPIONS A CELEBRAR 30 AÑOS DE 'WIND OF CHANGE' CON LANZAMIENTO DE BOX SET
Por Irving Vidro
Scorpions ha anunciado que celebrarán el 30 aniversario de su single Wind Of Change con una caja de lujo.
La canción fue escrita en 1989 y llegó a encabezar las listas de éxitos en toda Europa cuando fue lanzada en 1991, poco después de la caída del Muro de Berlín, convirtiéndose en un himno de la época en medio del cambio en el panorama cultural.
Wind Of Change: The Iconic Song se lanzará el 3 de octubre y contará con un CD y un vinilo de 12 pulgadas con cinco versiones de la pista, incluida una versión demo inédita del líder de Scorpions, Klaus Meine.
También en la caja habrá un libro de tapa dura de 84 páginas con fotografías inéditas, junto con una pieza del Muro de Berlín, que tendrá una estrella roja de Wind Of Change y letra escrita a mano.
Wind Of Change se inspiró en Scorpions ambientado en el Festival de Música de la Paz de Moscú en 1989, y reflexionando sobre el momento, Meine dice: "Cuando subimos al escenario en el Estadio Lenin y comenzamos el espectáculo con Blackout, todos los soldados del Ejército Rojo, que funcionaron como seguridad, arrojaron sus sombreros y chaquetas al aire, se volvieron hacia nosotros y se volvieron parte de la multitud.
"El mundo estaba cambiando frente a nuestros ojos. ¡Fue increíble!"
Agrega: "En tiempos de COVID-19 y todas las teorías de conspiración locas en estos tiempos extremadamente difíciles, Wind Of Change es como un abrazo, un buen amigo de una época en que la esperanza de un mundo pacífico parecía cumplirse. El sueño de la paz sigue vivo en esta canción ".
Wind Of Change: The Iconic Song está limitado a 2020 copias, cada una de ellas numerada a mano y ahora está disponible para reservar.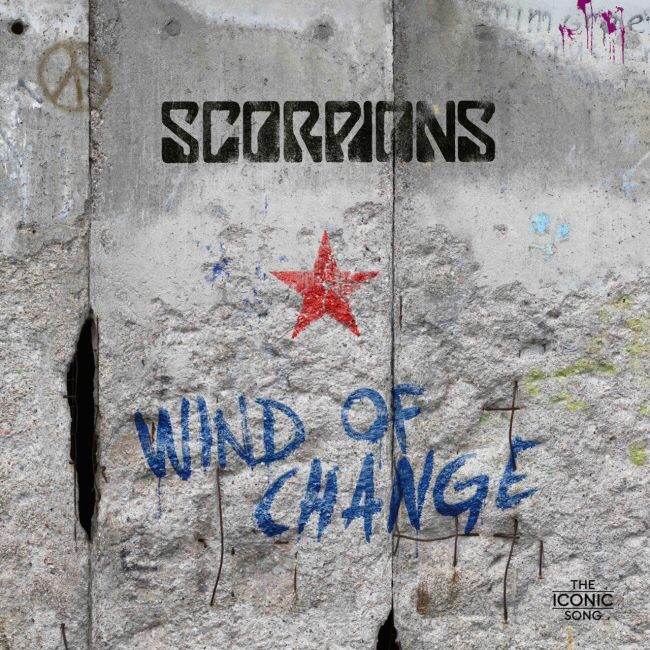 Track listing
CD
Wind Of Change (Crazy World Version)
Wind Of Change (Scorpions & Berlin Philharmonic Orchestra Version)
Ветер перемен (Russian Version)
Viento De Cambio (Spanish Version)
Wind Of Change (Unreleased Demo Version by Klaus Meine)
LP
A
Wind Of Change (Crazy World Version)
Wind Of Change (Scorpions & Berlin Philharmonic Orchestra Version)
B
Ветер Перемен (Russian Version)
Viento De Cambio (Spanish Version)
Wind Of Change (Unreleased Demo Version by Klaus Meine)