REVELAN POSIBLE LISTADO CANCIONES ÁLBUM 'FATHER OF ALL…' DE GREEN DAY
Por Irving Vidro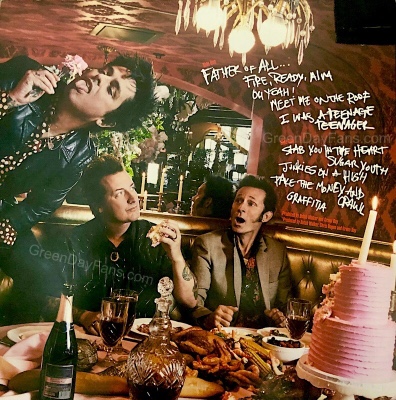 Solo falta un mes para que Green Day publique su decimotercer álbum "Father Of All Motherfuckers", pero parece que un fanático afortunado ya ha conseguido el empaque del disco.
Como reveló GreenDayFans.com, un fan llamado Jason recibió el arte del álbum por correo en su casa de California, revelando la portada posterior y la lista de canciones aparente por primera vez.
"¡Imagínese mi sorpresa cuando un paquete anónimo, matasellado desde California, llegó a mi buzón que contiene el álbum que todos hemos estado esperando, Father of All Motherfuckers" de Green Day, que no saldrá hasta el 7 de febrero de 2020!" Jason escribe
"Por desgracia, mi entusiasmo inicial se vio ligeramente desalentado cuando resultó que el paquete contenía solo el empaque del vinilo para el decimotercer álbum de estudio de Green Day y no incluía ningún tipo de inserto, pero ciertamente no me quejé".
Si bien la banda no ha comentado, la lista de canciones parece bastante confiable: presenta la canción principal y el sencillo recientemente lanzado "Fire Ready Aim", así como varios títulos de canciones que el líder Billie Joe Armstrong reveló en una entrevista con Kerrang el año pasado,incluyendo "Junkies On A High" y "Sugar Youth".
Armstrong también reveló que hay una canción que muestra "Do You Wanna Touch Me" de Joan Jett llamada "Bulletproof Backpack", pero podría haber cambiado su nombre a "Oh Yeah!", Que es una letra recurrente en la canción original.
Echa un vistazo a esa lista de canciones completa a continuación
1. Father Of All…
2. Fire, Ready, Aim
3. Oh Yeah!
4. Meet Me On The Roof
5. I Was A Teenage Teenager
6. Stab You In The Heart
7. Sugar Youth
8. Junkies On A High
9. Take The Money And Crawl
10. Graffitia