QUEENS OF THE STONE AGE A TRANSMITIR CONCIERTO BENÉFICO A 5 AÑOS ATAQUE A LE BATACLAN
Por Irving Vidro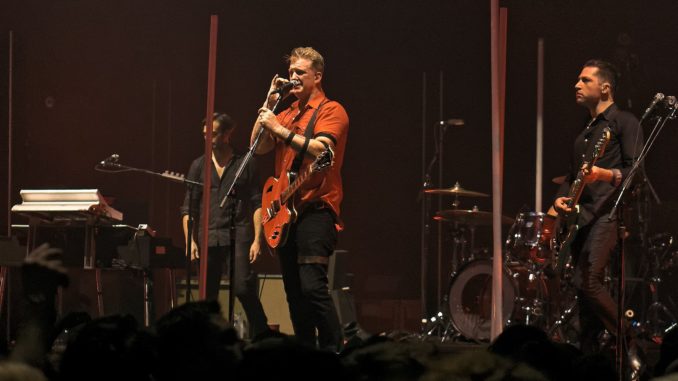 Hace cinco años este mes, terroristas del Estado Islámico de Irak y el Levante (ISIL) mataron a 90 personas en un show de Eagles of Death Metal en Le Bataclan en París. Ahora, para honrar a las víctimas de esta tragedia y recaudar fondos para causas dignas, los rockeros del desierto de Cali, Queens of the Stone Age, han anunciado que transmitirán una presentación en vivo en el quinto aniversario de los ataques.

QOTSA transmitirá imágenes de su set acústico de agosto de 2019 desde el Museo de Arte Antiguo y Nuevo de Tasmania. La transmisión busca crear conciencia y obtener donaciones para dos organizaciones benéficas, The Nick Alexander Memorial Trust y Life For Paris.

"Este programa originalmente iba a beneficiar al Hospital de Niños de Hobart, Tasmania, y nos complace que tenga una segunda oportunidad de hacer algo bueno", dice el líder de QOTSA Josh Homme, según NME. "2020 es un año realmente desordenado y las personas que lo necesitan lo necesitan más que nunca. Dona lo que puedas, si puedes ".

"Este viernes, dirígete a Youtube y disfruta de las bondades del rock & roll", dijo Nick Alexander Memorial Trust a través de su Facebook. "Puede que no estemos juntos en persona, pero estaremos allí y sabemos que tú también lo estarás. Estamos muy agradecidos con todos en el equipo Queens of the Stone Age por su amor y apoyo y, como siempre, con nuestra querida familia @LifeforParis ".

"Para el 5º aniversario de los ataques del 13 de noviembre de 2015, la banda (cuyo líder Josh Man es cofundador de Eagles Of Death Metal) transmitirá este viernes en su canal de YouTube un Unreleased en vivo, pidiendo donaciones para nuestra asociación". dice Life For Paris en su Facebook. "Un gran agradecimiento a ellos por esta iniciativa que está encantada con nuestros fans miembros de este grupo. Y nos vemos el viernes a las 18 hs. ¡Vengan todos y puntualmente porque el concierto será visible por tiempo limitado! ¡Paz, amor, Death Metal!

Puedes ver el concierto benéfico de Queens of the Stone Age este viernes 13 de noviembre al mediodía EST, 9 a.m. PST, 5 p.m. GMT, 6 p.m. hora de París, a través de YouTube.