PUBLICAN NUEVO LIBRO DE BON SCOTT A 40 AÑOS DE SU MUERTE
Por Irving Vidro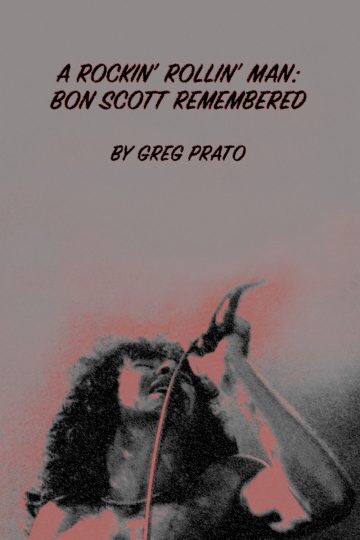 Los fanáticos de AC / DC pueden alegrarse ya que hay un nuevo libro en el mercado titulado A Rockin 'Rollin' Man: Bon Scott Remembered del reconocido autor Greg Prato, quien recientemente lanzó el libro titulado Take it Off: KISS Truly Unmasked.
El comunicado de prensa de Chipster PR & Consulting, Inc. indica en parte:
"Ha habido pocos cantantes de rock tan queridos como Bon Scott de AC / DC. Después de todo, fueron sus voces inconfundibles y sus letras callejeras / sexualmente cargadas las que fueron una parte importante de himnos de rock clásico de todos los tiempos como "Highway to Hell", "Sin City", "Whole Lotta Rosie", "Dirty". Deeds Done Dirt Cheap "y" TNT ". Y fue la" era Bon "la que preparó el escenario para que AC / DC se convirtiera en una de las bandas de rock más populares y duraderas del mundo.
Pero pocos rockeros festejaron tanto como Bon, lamentablemente resultando en su muerte a los 33 años el 19 de febrero de 1980, justo antes de que AC / DC lograra su avance mundial, con 'Back in Black'. Desde el trágico fallecimiento de Bon, el recién lanzado 'A Rockin' Rollin 'Man: Bon Scott Remembered' ha sido reunido por el periodista / autor Greg Prato, compuesto por entrevistas completamente nuevas con rockeros de renombre, discutiendo lo que hizo a Bon tan especial e inolvidable .
El libro presenta fotos antiguas y entrevistas completamente nuevas con personas como Tony Platt (ingeniero de 'Highway to Hell' y 'Back in Black'), Simon Wright (AC / Baterista de DC: 1983-1989), KK Downing (ex guitarrista de Judas Priest), Scott Gorham (guitarrista de Thin Lizzy), Bun E. Carlos (ex baterista de Cheap Trick), Michael Monroe (cantante de Hanoi Rocks) y Phil Anselmo ( Cantante de Pantera), entre muchos otros.
Greg Prato es un escritor y periodista de Nueva York, cuya escritura ha aparecido a través de medios como Songfacts, Vintage Guitar Magazine y Consequence of Sound. También es autor de varios libros populares, como "Take It Off: Kiss Truly Unmasked", "Touched by Magic: The Tommy Bolin Story" y "Iron Maiden: 80 81", entre muchos otros. Y es posible que incluso lo hayas escuchado en una de sus muchas apariciones en radio o televisión, que incluyen entrevistas en 'The Howard Stern Wrap-Up Show', 'Eddie Trunk Live' y 'The Ron & Fez Show'. 'A Rockin' Rollin 'Man: Bon Scott Remembered' es su libro número 30 en general ".