PINK FLOYD A REEDITAR EL ÁLBUM 'DELICATE SOUND OF THUNDER' CON TEMAS ADICIONALES
Por Irving Vidro
El álbum en vivo y la película de concierto de Pink Floyd de 1988, Delicate Sound Of Thunder, se reeditará en Blu-ray, DVD, dos CD, tres discos de vinilo y una edición de lujo de cuatro discos con pistas adicionales el 20 de noviembre.
El conjunto de vinilo de 180 gramos de tres LP incluye nueve canciones que no se incluyeron en el lanzamiento del álbum en 1988, mientras que el lanzamiento de dos CD incluye ocho pistas más que su lanzamiento original. Las canciones y el metraje fueron capturados durante la gira A Momentary Lapse of Reason de Floyd, y la lista de canciones incluía canciones de The Dark Side Of The Moon (incluidas "Time" y "Us And Them"), la canción principal de Wish You Were Here,"Comfortably Numb" y "Run Like Hell" de The Wall.
La versión de dos CD incluye todas las canciones de A Momentary Lapse Of Reason, incluida "Learning To Fly". Otras versiones incluyen una variedad de canciones;el sonido fue completamente remezclado de las cintas multipista originales por el ingeniero Andy Jackson de Pink Floyd con David Gilmour de Pink Floyd.
Todas las ediciones cuentan con folletos de fotografías de 24 páginas, y la edición en caja de cuatro discos incluye un folleto de fotografías de 40 páginas, un póster de la gira y postales.
La versión actualizada de la película, dirigida por Wayne Isham, se obtuvo de más de 100 latas de negativos originales de 35 mm, se restauró y se transfirió a 4K y se mejoró con sonido envolvente 5.1.
Delicate Sound of Thunder fue el primer álbum completamente en vivo de la banda y fue grabado durante cinco noches en el Nassau Coliseum en Long Island, Nueva York, en agosto de 1988 y mezclado en Abbey Road Studios en septiembre de 1988.
Esta formación de Pink Floyd no contó con el tecladista / vocalista Richard Wright ni con el bajista y letrista Roger Waters, que había dejado el grupo tras el álbum de 1983 The Final Cut.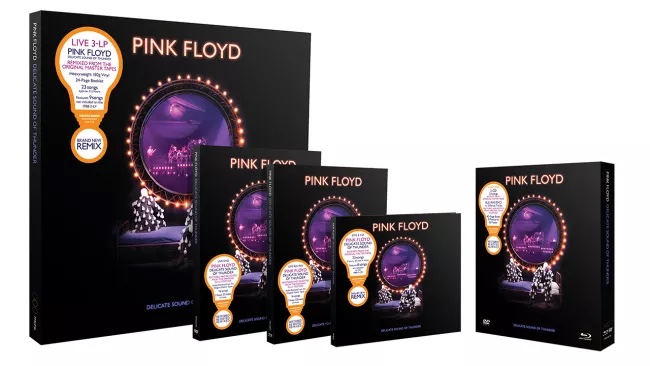 Delicate Sound of Thunder tracklistings:
Disc 1 (Part 1)
Shine On You Crazy Diamond, Parts 1-5
Signs Of Life*
Learning To Fly
Yet Another Movie
Round And Around
A New Machine Part 1*
Terminal Frost*
A New Machine Part 2*
Sorrow
The Dogs Of War
On The Turning Away
Disc 2 (Part 2)
One Of These Days
Time
On The Run*
The Great Gig In The Sky*
Wish You Were Here
Welcome To The Machine*
Us And Them
Money
Another Brick In The Wall, Part 2
Comfortably Numb
One Slip*
Run Like Hell
BLU-RAY and DVD EDITIONS
RE-EDITED FROM THE ORIGINAL RESTORED 35mm FOOTAGE
AUDIO REMIXED FROM THE ORIGINAL MASTER TAPES
Blu-Ray – Stereo PCM 96/24, 5.1 dts Master Audio (96/24)
DVD – Stereo PCM (48/16), 5.1 Dolby Digital (48/16), 5.1 dts (48/16)
Also included in The Later Years Box Set
24-Page Booklet
Shine On You Crazy Diamond, Parts 1-5
Signs Of Life
Learning To Fly
Sorrow
The Dogs Of War
On The Turning Away
One Of These Days
Time
On The Run
The Great Gig In The Sky
Wish You Were Here
Us And Them
Money
Comfortably Numb
One Slip
Run Like Hell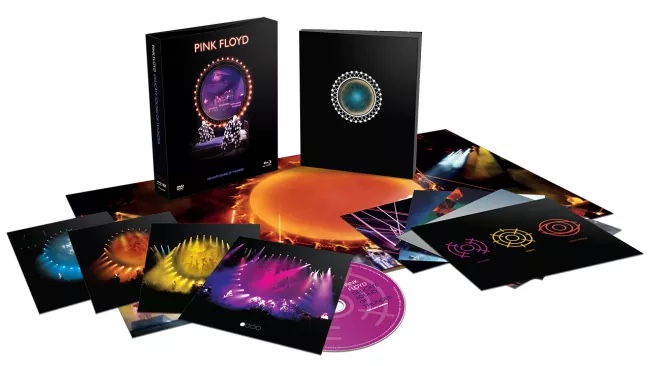 4-DISC BOX EDITION
Deluxe Box includes 2-CD (23 Songs), Blu-ray (21 songs inc. 5 Bonus Tracks), DVD (21 songs inc. 5 Bonus Tracks), 40-Page Booklet, Double Sided Poster, 5 Postcards
Blu-ray – Stereo PCM 96/24, 5.1 dts Master Audio (96/24)
DVD – Stereo PCM (48/16), 5.1 Dolby Digital (48/16), 5.1 dts (48/16)
2-CD Remixed From The Original Master Tapes
Disc 1 (Part 1)
Shine On You Crazy Diamond Parts 1-5
Signs Of Life
Learning To Fly
Yet Another Movie
Round And Around
A New Machine Part 1
Terminal Frost
A New Machine Part 2
Sorrow
The Dogs Of War
On The Turning Away
Disc 2 (Part 2)
One Of These Days
Time
On The Run
The Great Gig In The Sky
Wish You Were Here
Welcome To The Machine
Us And Them
Money
Another Brick In The Wall Part 2
Comfortably Numb
One Slip
Run Like Hell
BLU-RAY and DVD
Shine On You Crazy Diamond, Parts 1-5
Signs Of Life
Learning To Fly
Sorrow
The Dogs Of War
On The Turning Away
One Of These Days
Time
On The Run
The Great Gig In The Sky
Wish You Were Here
Us And Them
Money
Comfortably Numb
One Slip
Run Like Hell
BONUS TRACKS
Yet Another Movie
Round And Around
A New Machine Part 1
Terminal Frost
A New Machine Part 2
3-LP VINYL
Vinyl One: Side A
Shine On You Crazy Diamond, Parts 1-5
Signs Of Life *
Learning To Fly
Vinyl One: Side B
Yet Another Movie
Round And Around
A New Machine Part 1 *
Terminal Frost *
A New Machine Part 2 *
Sorrow
Vinyl Two: Side A
The Dogs Of War
On The Turning Away
One Of These Days
Vinyl Two: Side B
Time
On The Run *
The Great Gig In The Sky *
Wish You Were Here
Welcome To The Machine *
Vinyl Three: Side A
Us And Them *
Money
Another Brick In The Wall, Part 2
Vinyl Three: Side B
Comfortably Numb
One Slip *
Run Like Hell