NICKELBACK A LANZAR EDICIÓN AMPLIADA DE 'ALL THE RIGHT REASONS' EN SU 15to ANIVERSARIO
Por Irving Vidro
Si bien la gira de aniversario de Nickelback detrás de All the Right Reasons se ha pospuesto, los canadienses no se retrasarán en el lanzamiento de una edición ampliada del álbum para marcar su hito de 15 años.
Una edición remasterizada y ampliada de su álbum de 2005 llegará digitalmente y como un conjunto de 2 CD el 2 de octubre a través de Universal Music Canada.
Junto con el álbum original se incluye una versión de "We Will Rock You" de Queen y tres versiones acústicas de los temas "Photograph", "Too Bad" y "Someday".
El segundo disco del set presenta una grabación en vivo de la actuación de Nickelback del 8 de agosto de 2006 en Sturgis, ND, durante el Sturgis Bike Rally anual, originalmente lanzado en DVD como Live at Sturgis 2006.
All the Right Reasons ha vendido 12 millones de copias en todo el mundo y fue certificado siete veces Platino en Canadá en 2010.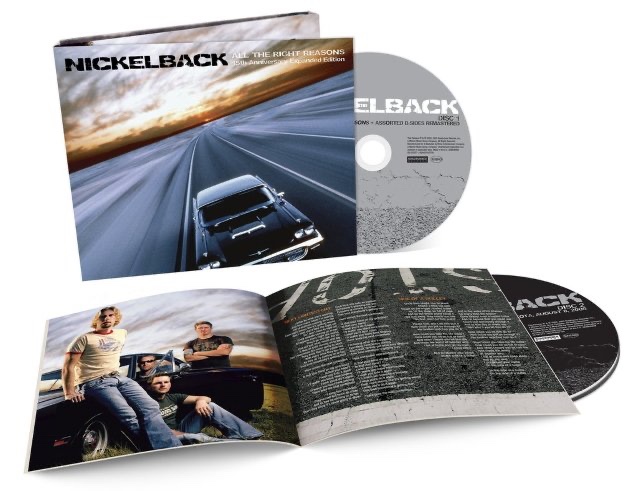 Disc One:
Follow You Home
Fight For All The Wrong Reasons
Photograph
Animals
Savin' Me
Far Away
Next Contestant
Side Of A Bullet
If Everyone Cared
Someone That You're With
Rockstar
We Will Rock You
Photograph (Acoustic)
Too Bad (Acoustic)
Someday (Live Acoustic)
Disc Two: Live at Buffalo Chip, Sturgis, SD (8/8/06):
Intro
Animals
Woke Up This Morning
Photograph
Because Of You
Far Away
Never Again
Savin' Me
Someday
Side of a Bullet
How You Remind Me
Too Bad
Figured You Out