NEW ORDER ANUNCIA EDICIÓN ESPECIAL DEL ÁLBUM 'POWER,CORRUPTION & LIES'
Por Irving Vidro
New Order ha anunciado una nueva edición de lujo de su segundo álbum de 1983, Power, Corruption & Lies. El 2 de octubre, a través de Rhino, la "edición definitiva" incluye un vinilo de 12 pulgadas, dos CD, dos DVD y un libro de tapa dura.
La reedición contiene Power, Corruption & Lies remasterizados de sus maestros de cintas analógicas originales por primera vez, presionados tanto en CD como en vinilo. Un segundo disco cuenta con grabaciones inéditas de las sesiones de escritura de New Order, como las primeras tomas de "Blue Monday" (incluyendo un instrumental), "Age of Consent", "Ecstasy" y una demostración de "Thieves Like Us" en New York También se incluye la John Peel Session de cuatro canciones de la banda de 1982, que recibe una nueva emisión de 12 pulgadas para el Record Store Day del 29 de agosto.
En cuanto a los DVD, están llenos de películas completas de conciertos y actuaciones de televisión. Los espectáculos completos incluyen una presentación del 26 de junio de 1982 en The Hacienda de Manchester; un concierto del 24 de abril de 1983 en el Rosehill Hotel de Irlanda; y otro concierto de Hacienda del 20 de julio de 1983. También hay un documental Play 4 Home de Channel 4, apariciones en la BBC Top of the Pops y selecciones en vivo de conciertos en la First Avenue de Minneapolis, el Tower Ballroom de Birmingham, el Metropol de Berlín y otros lugares.
El cuadro Power,Corruption & Lies se completa con un libro de 48 páginas con fotografías raras y "texto original", compilado por Warren Jackson, el coordinador visual de New Order. Peter Saville, conocido por su icónico trabajo gráfico de Factory Records, diseñó toda la colección.
Además del conjunto de cajas de edición limitada, New Order reeditará por separado cuatro singles de vinilo de 12 pulgadas que no son álbumes de la época: "Blue Monday" en b / w "The Beach", "Confusion" en b / w una mezcla instrumental cruda , "Thieves Like Us" b / w "Lonesome Tonight", y "Murder" b / w "Thieves Like Us" instrumental.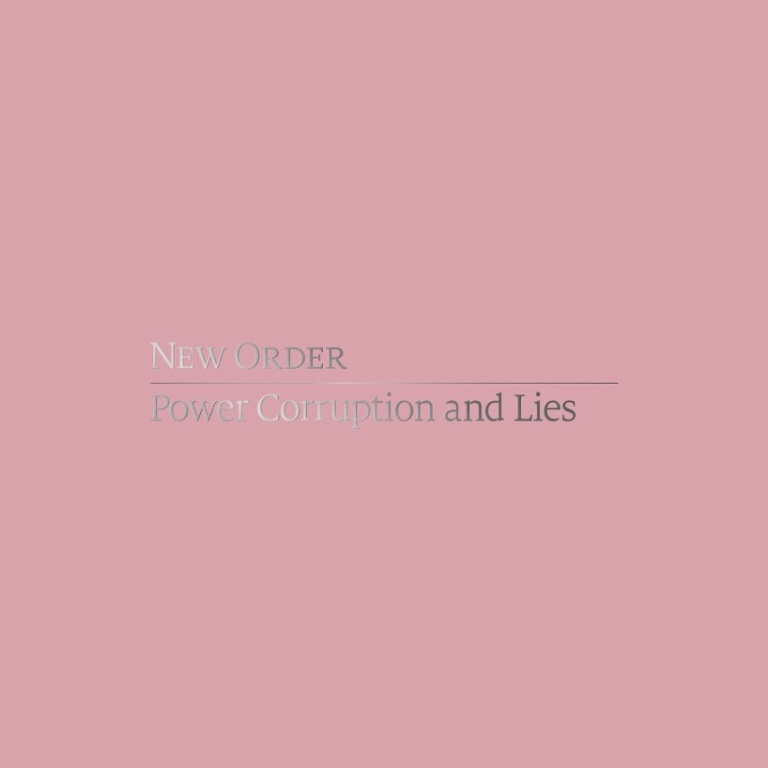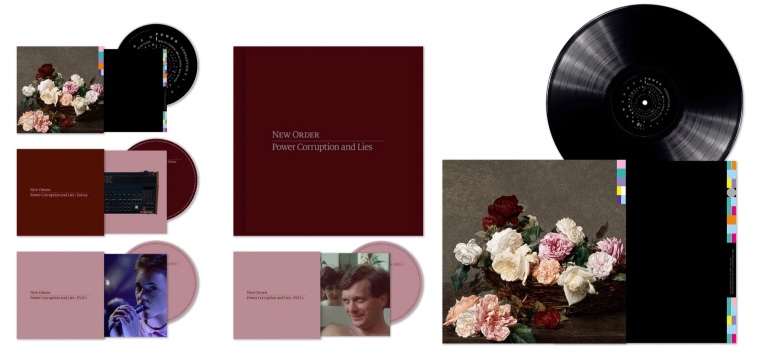 Power, Corruption & Lies Definitive Edition :

Power Corruption & Lies (para CD y LP)
Age of Consent
We All Stand
The Village
5 8 6
Your Silent Face
Ultraviolence
Ecstacy
Leave Me Alone
Extras (CD)
Writing Session Recordings
Age Of Consent *
The Village *
5 8 6 *
Your Silent Face *
Ecstacy *
Leave Me Alone *
John Peel Session
Turn The Heater On
We All Stand
Too Late
5 8 6
John Peel Session Outtake
Too Late (instrumental rough mix) *
New York demo #1
Thieves Like Us*
Writing Session Recordings
Thieves Like Us *
Murder *
Blue Monday *
Blue Monday *
Album Session Recording
Blue Monday (Instrumental Outtake)
DVD 1
The Hacienda, Manchester, 1982
In A Lonely Place
Ultraviolence
Denial
The Village
We All Stand
Senses
Chosen Time
5 8 6
Temptation
Everything's Gone Green
Rosehill Hotel, Kilkenny, Ireland 1983
We All Stand
Leave Me Alone
Denial
The Village
Temptation
Confusion
Age Of Consent
Blue Monday
Everything's Gone Green
Ceremony
TV Sessions
Blue Monday (BBC Top Of The Pops, London, 1983)
Confusion (Countdown – 1983)
Age Of Consent (Switch – 1983)
Blue Monday (Switch – 1983)
Thieves Like Us (BBC Top Of The Pops, London, 1984 )
Extras
Your Silent Face (The Hacienda, Manchester, 1983)
5 8 6 (The Hacienda, Manchester, 1983)
We All Stand (Recreation Centre, Tolworth, 1983)
Leave Me Alone (Recreation Centre, Tolworth, 1983)
Love Will Tear Us Apart (Tower Ballroom, Birmingham, 1983)
Ultraviolence (First Avenue, Minneapolis, 1983)
The Village (Uni-Mensa, Dusseldorf, 1984)
Thieves Like Us (Alabamahalle, Munich, 1984)
Blue Monday (Alabamahalle, Munich, 1984)
Lonesome Tonight (Metropol, Berlin, 1984)
Confusion (Metropol, Berlin, 1984)
DVD 2
Play At Home
Channel 4, 1984 documentary made by New Order
The Hacienda, Manchester, 1983
Blue Monday
Age Of Consent
Lonesome Tonight
Your Silent Face
Leave Me Alone
5 8 6
Denial
Confusion
Temptation
Thieves Like Us
In A Lonely Place
Everything's Gone Green