NEIL TURBIN ABIERTO A REUNIÓN DE VOCALISTAS DE ANTHRAX EN ESPECTÁCULO
Por Irving Vidro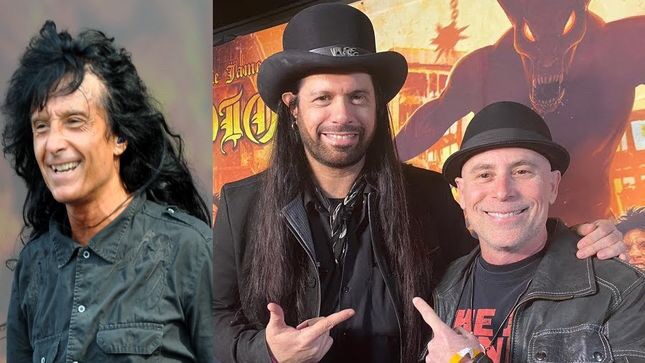 Jimmy Kay de The Metal Voice de Canadá habló con el ex cantante de Anthrax Neil Turbin a través de Zoom el 4 de junio.
En la entrevista de The Metal Voice, a Turbin se le hizo una pregunta que recientemente se le hizo al guitarrista de Anthrax Scott Ian en The Jasta Show sobre la posibilidad de un Festival de Anthrax de 40 años con cantantes actuales y anteriores, Neil Turbin, Joey Belladonna y John Bush. Turbin le dijo a The Metal Voice: "Amo a John Bush, es genial, fue realmente genial para John darme una entrevista para The Metal Voice en la Gala Dio 10 años en febrero. Es la primera vez Conocí a John en persona, conocí a los otros miembros de Armored Saint y siempre han sido geniales. Tener la oportunidad de conocer a John y hablar con él fue bastante increíble. John es un gran cantante y un gran tipo. Me encantaría hacer shows con John Bush y con Armored Saint si surge esa oportunidad, sin duda estaría abierto a eso ".
Turbin continuó: "Michael Schenker Fest y Helloween (Pumpkins United), lo que han hecho y cómo han abordado las cosas, han hecho sus shows Fest con respeto y clase para las bandas y artistas. Hay un valor en presentar algo así Sin embargo, creo que todo se reduce a lo que quieren los fanáticos. Lo que los fanáticos quieren es lo que importa. ¿El show de Anthrax sacará a los fanáticos? Como fanático, aprecio que Michael Schenker haga su Fest. Respeto el hecho de que Graham Bonnet y Michael Schenker volvería al escenario hoy con sus problemas en el pasado. También creo que el Michael Schenker Fest ha ayudado a revitalizar su carrera, están jugando en lugares más grandes. Estaría abierto a considerar hacer el Anthrax Fest pero hay muchas partes móviles. Hasta ahora no me han contactado ".