MYLES KENNEDY SOBRE SLASH Y SU ÉTICA DE TRABAJO :"ES INTENSO"
Por Irving Vidro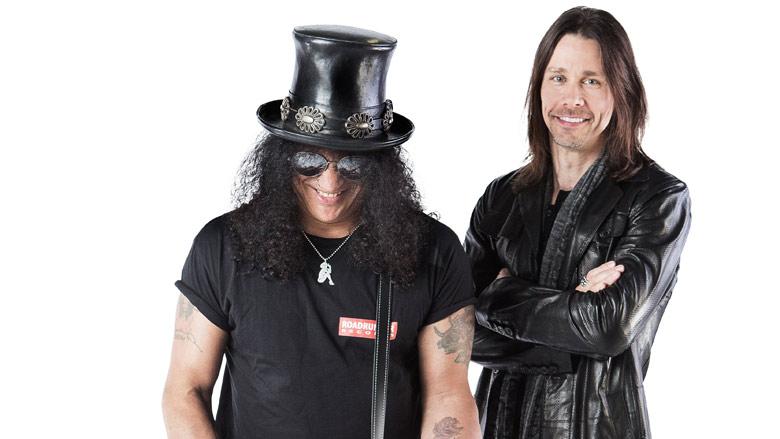 En una nueva entrevista con el New York Post, Myles Kennedy habló sobre la camaradería y el respeto entre él y el guitarrista de GUNS N 'ROSES, Slash. Kennedy cantó las voces principales en un par de canciones que aparecieron en el álbum debut en solitario de Slash en 2010 antes de asumir un papel más central, bajo el lema SLASH FEATURING MYLES KENNEDY AND THE CONSPIRATORS, en "Apocalyptic Love" de 2012, "World On Fire" de 2014 y "Living The Dream" de 2018.
"Creo que una de las cosas que me han contagiado con Slash es su ética de trabajo", dijo Kennedy. "Es bastante intenso. Es implacable, y creo que ver eso es inspirador, especialmente porque ha tenido la cantidad de éxito que ha tenido, no tiene que hacer eso. Puede simplemente descansar en sus laureles y ser como , 'Ok, he hecho esto, estoy bien y ya no tengo que trabajar tan duro'. Casi parece que a medida que pasan los años quiere trabajar más y más y más duro. No sé de dónde viene. Creo que es solo por el amor al juego ".
Slash le dijo a The Pulse Of Radio hace un tiempo que su asociación con Kennedy ha sido fácil desde el principio. "Trabajamos muy bien juntos", dijo. "Nunca pensé realmente en cómo está progresando. Es realmente natural. Por lo tanto, es como cualquier tipo de relación cercana, donde creo que la establecimos realmente, muy temprano y ahora estamos haciendo lo nuestro, ya sabes "Sí, no sé qué más decir: es una sinergia realmente genial".
"Living The Dream" se lanzó en septiembre de 2018 a través del sello de Slash Snakepit Records, en asociación con Roadrunner Records. El disco es el cuarto álbum en solitario de Slash, y tercero con Slash y sus compañeros de banda Kennedy (voz), Brent Fitz (batería), Todd Kerns (bajo y voz) y Frank Sidoris (guitarra y voz). La obra de arte fue creada por el reconocido artista visual Ron English.