MÚSICOS DE UNEN EN 'OH SAY CAN YOU STREAM',TRANSMISIÓN DE NUEVE HORAS PARA RECAUDACIÓN DE FONDOS
Por Irving Vidro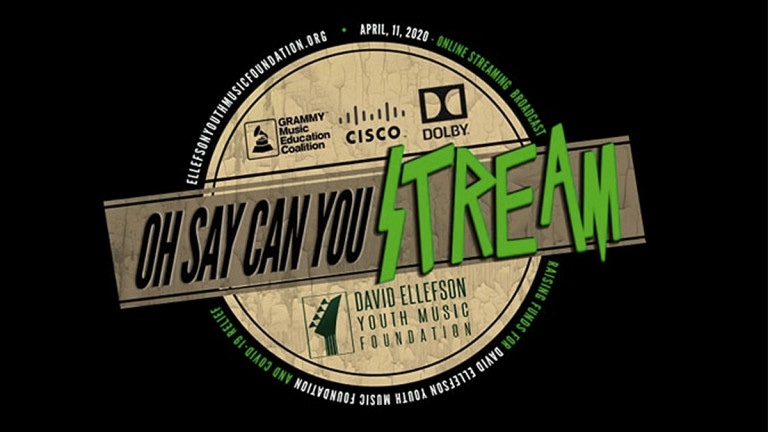 Una larga lista de músicos de metal se está uniendo para un maratón de transmisión en vivo de nueve horas el sábado (11 de abril) para recaudar fondos y crear conciencia sobre el alivio de COVID-19 y una nueva iniciativa de música en línea, "School's Out!".
El bajista de Megadeth, David Ellefson, lanzó la iniciativa como un medio para ayudar a los jóvenes estudiantes de música a continuar las lecciones de música durante la pandemia de coronavirus. La transmisión en vivo del maratón, llamada "Oh Say Can You Stream", será presentada a través de la Fundación de Música Juvenil David Ellefson. El bajista de Megadeth ha reunido una larga lista de músicos, comediantes y actores para ayudar a recaudar fondos para "School's Out!" y alivio del coronavirus.
La lista de artistas y actos variados es larga , pero algunos nombres incluyen al guitarrista de Testament Alex Skolnick y Charlie Benante de Anthrax (ambos colaboraron recientemente en un cover de Rush durante la pandemia); El bajista y cantante de Mastodon Troy Sanders y su hermano Kyle Sanders (Hellyeah); el ex guitarrista de Megadeth Chris Poland; Nita Strauss de la banda de Alice Cooper; el ex guitarrista de Guns N 'Roses Bumblefoot; miembros del elenco de Clerks; e incluso un tipo que participó como Guardia Gamorreano en Return of the Jedi, entre muchos más.
La fundación de Ellefson anunció la transmisión en Facebook:
El evento comienza en vivo a las 4 p.m. ET / 3 p.m. CT / 1 p.m. PT el sábado 11 de abril, a través de Twitch, Facebook y YouTube. Ellefson será coanfitrión con Thom Hazaert, con Don Jamieson y Jim Florentine de That Metal Show, el comediante Craig Gass y el ex Headbangers Ball VJ Riki Rachtmann como coanfitriones.
Horario por hora "Oh Say Can You Stream":
Todos los horarios CT (hora central) el sábado 11 de abril
Organizado por Thom Hazaert y David Ellefson
3-4 PM – Lee Whitmore (Grammy Music Education Coalition), Ellefson (Megadeth), Kiko Loureiro (Megadeth), Rusty Cooley
4-5 PM – The Loyal Order, Dash Cooper, DSon, Kyle Sanders (Hellyeah), Mark "WEISSGUY" Weiss, Andre Comeau
5-6 PM – Anfitrión invitado: Craig Gass – Jason Bieler (Saigon Kick), PJ Farley, Marc Rizzo (Soulfly), Elias Soriano (Nonpoint),
Chris Kael (Five Finger Death Punch), Troy Sanders (Mastodon)
6-7 PM – Anfitriones invitados: Craig Gass, Don Jamieson, Jim Florentine – Carmine Appice (Vanilla Fudge, Rod Stewart, King
Kobra) Rich Ross (Freddie Jones Band), Jason McMaster (Dangerous Toys, Broken Teeth), Bumblefoot, Rob Caggiano (Volbeat),
Alex Skolnick (Testament), Mark Osegueda (Death Angel)
7-8 PM – Anfitriones invitados: Don Jamieson, Jim Florentine, Riki Rachtman – Dirk Verbeuren (Megadeth), Charlie Benante
(Ántrax), Carla Harvey (Butcher Babies), Nita Strauss (Alice Cooper), Clint Lowery (Sevendust), DMC
8-9 PM – Alice y Sheryl Cooper, Dash Cooper (Co-op), Drake Bell, Daniel De Los Reyes (Zac Brown Band), John Hopkins (Zac
Brown Band) CLERKS – Brian O 'Halloran, Marilyn Ghigliotti, Scott Schiaffo, Ernie O'Donnell
9-10 PM – Anfitriones invitados: Don Jamieson, Jim Florentine – Frank Hannon (Tesla), Mark Slaughter, Chip Z'Nuff (Enuff Z'Nuff),
10-11 PM – Adam Green, Larry Thomas (Seinfeld), Danny Cooksey, Terry Ilous (XYZ, Ex-Great White), Dave Alvin (White
Trash)
11-MID – Greg Hetson (Circle Jerks), Chris Aiken (Strung Out), Chris Poland (Ex-Megadeth, Circle Jerks) Drew Fortier +
Habitantes, Whitfield Crane (Ugly Kid Joe), Lew Temple, They Might Be Zombies, Burton C. Bell