MONSTERS OF ROCK : THE OFFICIAL ILLUSTRATED HISTORY
Por Irving Vidro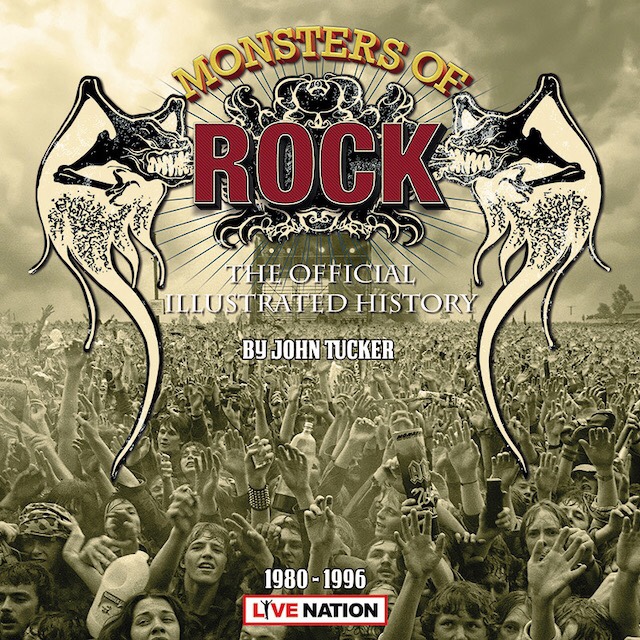 Live Nation y Rufus Rock N Roll Publishing se complacen en anunciar la publicación de la historia visual oficial de Monsters Of Rock.
Escrito por el periodista de rock John Tucker con material complementario de la relacionista pública oficial del festival Judy Totton y los promotores del festival, este libro épico nos lleva en un viaje desde los primeros Monsters Of Rock en 1980 hasta el último evento en 1996. Mide aproximadamente 11.8 "x 11.8 "y presenta más de 600 páginas que cubren cada año del festival con entrevistas, información, listas de canciones y muchas fotografías nunca antes vistas de los archivos de los mejores fotógrafos de rock.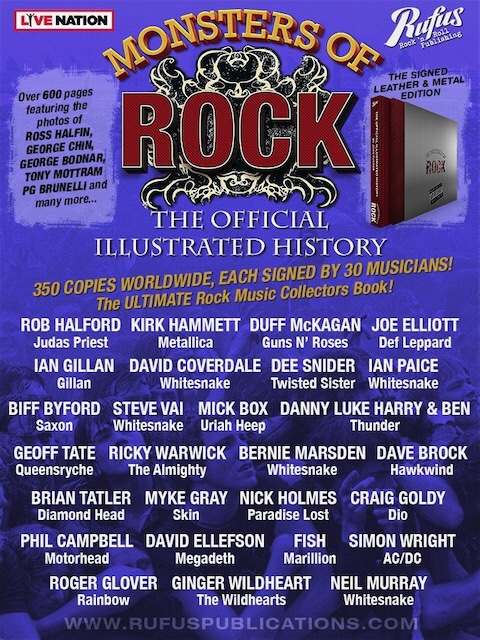 El libro también presenta una introducción del líder de Def Leppard, Joe Elliott.
"Subimos al escenario, no muy seguros de cómo íbamos a bajar, pero salimos sintiéndonos en la cima del mundo porque la banda había sobrevivido al escrutinio, ¡Rick lo había superado con gran éxito y caímos en una tormenta absoluta! Cuando presenté a Rick en el escenario, fue uno de los momentos más escalofriantes de nuestra carrera, así que eso es lo que Donington significa para nosotros. Cuando volvimos a los titulares por primera vez en 2009, pronuncié un largo discurso sobre Rick y qué significaba para él y para nosotros estar de vuelta allí y se podía escuchar un alfiler, pero cuando lo presenté a la multitud se volvieron locos, todo comenzó en 1986 en el festival Monsters Of Rock. Estábamos en juicio, vinimos a través de él y al tocar ese programa, sentimos que teníamos una audiencia esperándonos cuando el álbum de Hysteria finalmente salió un año después. Hay muchas maneras de tejer esta historia, pero siempre se remonta a 1986 y ese programa en Donington ". – Joe Elliott – Def Leppard (noviembre de 2019)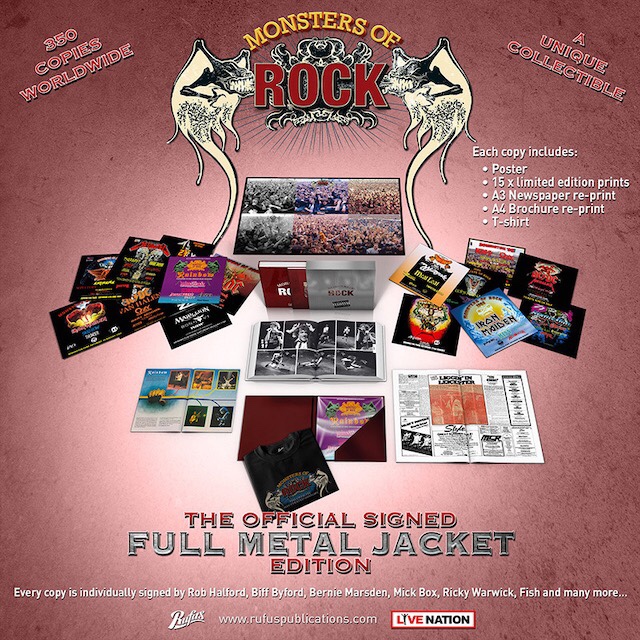 La increíble edición de Full Metal Jacket, firmada personalmente, limitada a 350 copias en todo el mundo, firmada individualmente por el legendario líder de Judas Priest Rob Halford más al menos un artista de cada año del festival, incluidos Kirk Hammett (Metallica), Biff Byford (Saxon), Duff McKagan (Guns N 'Roses), Joe Elliott (Def Leppard), David Coverdale (Whitesnake), Dee Snider (Twisted Sister), Ian Gillan (Gillan), Bernie Marsden (Whitesnake), Danny, Luke, Harry y Ben (Thunder) , Mick Box (Uriah Heep), Ian Paice (Whitesnake), Roger Glover (Rainbow), Phil Campbell (Motorhead), Brian Tatler (Diamond Head), Dave Brock (Hawkwind), Simon Wright (AC / DC), Fish (Marillion ), Craig Goldy (Dio), Steve Vai (banda Whitesnake / Dave Lee Roth), Geoff Tate (Queensryche), Ricky Warwick (The Almighty), Ginger Wildheart (The Wildhearts), David Ellefson (Megadeth), Myke Gray (Skin) , Nick Holmes (Paradise Lost) y Neil Murray (Whitesnake). Esta versión también viene con una camiseta única, póster, impresiones artísticas y una recreación de los programas originales de 1980 y viene en un estuche de metal.
La edición estándar del libro está firmada personalmente por el legendario Noddy Holder de Slade, quien tomó el festival por asalto en 1981.