'MONSTER OF ROCK CRUISE' PREPARA FESTIVAL EN PUNTA CANA EN 2021
Por Irving Vidro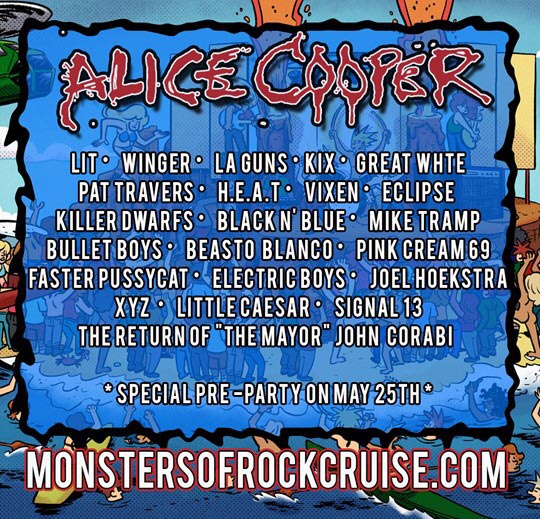 El 'Monsters of Rock Cruise' ha anunciado un viaje de celebración del décimo aniversario del 26 al 31 de mayo de 2021. "Promoter On The Blue anunció que la Operación Monster Beach de MOR se hará cargo de dos resorts privados con todo incluido en Punta Cana, República Dominicana este Del 26 al 31 de mayo y presentará actuaciones de más de 20 artistas, incluida la estrella principal de este año, el ícono del rock Alice Cooper ", afirma un comunicado de prensa.
Otras bandas que se presentan incluyen: Lit, Winger, LA Guns, KIX, Great White, Pat Travers, HEAT, Vixen, Eclipse, Killer Dwarfs, Black N 'Blue, Mike Tramp, Bullet Boys, Beasto Blanco, Pink Cream 69, Faster Pussycat, Electric Boys, Joel Hoekstra, XYZ, Little Caesar, Signal 13 y John Corabi, y más por anunciar. "Las bandas actuarán en varios escenarios en la playa y en las piscinas, además de que habrá una variedad de lugares bajo techo en los dos complejos", señala el comunicado.
Con respecto a los boletos, el anuncio agrega: "La venta al público comienza hoy (12/3) con suites a partir de $ 1,999 por persona (ocupación doble), más una tarifa de servicio obligatorio de $ 125 por persona para todos los huéspedes, independientemente de su edad. También están disponibles paquetes para extender su estadía, que incluyen un paquete previo a la fiesta de dos noches del 24 al 25 de mayo (con actuaciones de artistas y entretenimiento temático en torno a la celebración del cumpleaños de la actriz, cantante, director, Calico Cooper) y un post-evento individual El paquete está disponible para los huéspedes que deseen quedarse uno o dos días después de que la Operación Monster Beach haya terminado. Se anunciarán más detalles para estas opciones de estadías prolongadas ". Obtenga más detalles e información de reserva en MonstersOfRockCruise.com.
Por último, "Además de las actuaciones, Operation Monster Beach albergará eventos interactivos entre artistas y cruceros, que incluyen: sesiones de preguntas y respuestas de artistas / cruceros, Gong Show Karaoke, desafío" So You Think You Can Shred ", Cooking with Rock Stars, Name That Monster Canción y pintura con estrellas de rock, Rock Stars vs Average Joe Basketball y Beach Volleyball, y más por anunciar. Además, Operation Monster Beach albergará noches temáticas y oportunidades para cenar con las bandas ".