MIKE CAMPBELL(Ex-TOM PETTY) A LANZAR ÁLBUM DEBUT CON PROYECTO THE DIRTY KNOBS
Por Irving Vidro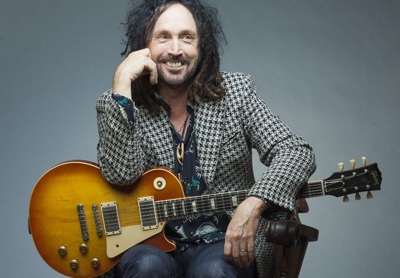 El ex colaborador de Tom Petty, Mike Campbell, finalmente lanzará un álbum con su proyecto The Dirty Knobs y comenzará una gira nacional esta primavera, luego lanzará su álbum debut el 20 de marzo.
Campbell, que también trabajó con Fleetwood Mac, se une a Jason Sinay (Neil Diamond, Ivan Neville) en guitarra y voz, Lance Morrison (Don Henley) en bajo y Matt Laug (Slash, Alanis Morissette) en la batería. A continuación se adjunta el video recientemente lanzado para la canción principal de Wreckless Abandon.
The Dirty Knobs se reunieron por primera vez hace casi 15 años, pero Wreckless Abandon es nuestro primer álbum y ocasión de gira ", explicó Campbell en un comunicado de prensa." Con los años, The Knobs se convirtió en una salida para que yo tocara algunas de las otras canciones. Estaba escribiendo y para mantener los jugos creativos fluyendo entre trabajar en álbumes y giras con Tom and the Heartbreakers ".
Campbell produjo Wreckless Abandon con George Drakoulias (Black Crowes, Jayhawks) y escribió todas las canciones. Los invitados a las sesiones incluyeron al ex compañero de banda de Campbell, Benmont Tench, y la estrella del country Chris Stapleton. La portada fue creada por Klaus Voormann, mejor conocido por su trabajo en el Revolver de los Beatles.
Marzo 10 — Minneapolis, MN @ Fine Line Music Hall
Marzo 11 — Chicago, IL @ Park West
Marzo 13 — Indianapolis, IN @ The Hi Fi
Marzo 15 — Nashville, TN @ Brooklyn Bowl
Marzo 17 — Alexandria, VA @ Birchmere
Marzo 18 — Philadelphia, PA @ World Café Live
Marzo 20 — Ridgefield CT @ Ridgefield Playhouse
Marzo 21 — Derry, NH @ Tupelo Music Hall
Marzo 23 — Boston, MA @ Brighton Music Hall
Marzo 26 — Brooklyn, NY @ Brooklyn Bowl
Abril 7 — San Francisco, CA @ The Independent
Abril 10 — Los Angeles, CA @ The Troubadour
Abril 14 — Boulder, CO @ Fox Theatre
Abril 15 — Denver, CO @ Bluebird Theatre
Abril 17 — Dallas, TX @ Blue Light
Abril 18 — Austin, TX @ Antone's
Abril 21 — Houston, TX @ Warehouse Live
Abril 24 — New Orleans, LA @ One Eyed Jacks
Abril 26 — Gainesville, FL @ High Dive
Abril 28 — Tampa, FL @ The Orpheum